Hop on UKFast's London Bus
You know how the old saying goes: you wait for a tech round table and two come along at once. Well, that's sort of how the saying goes, though it's usually about buses, isn't it?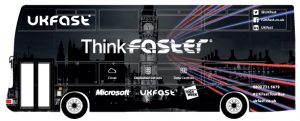 Buses! Yes… That gives us a great idea.
We'll be in London next week to be part of the incredible London Tech Week, and we're bringing the round tables to you with our own, fully kitted out double-decker bus, but it's not just any old London bus. Making the most of London Tech Week, we'll be driving around the capital debating a whole host of topics. The UKFast bus has its own section for hosting round tables, which we'll be doing on Monday and Wednesday next week.
If you'd like to attend either round table and share your expert knowledge, please get in touch below:
Digital Disruption Round Table
Monday 12th June 2017 10am-12pm
On Wednesday we'll be asking which industries the next-generation startups are overturning, and what are the new markets created as a result of their innovation? Ten years ago no-one would have understood what it meant to Skype your friends or Uber to work – so it's fair to say that disrupters are on the rise and there's no telling which industry they'll overthrow next. Which industries are next to be disrupted? Are there any disrupters already shaping the future of digital disruption?
Security Round Table
Wednesday 14th June 2017 10am-12pm
From the bus, let's talk about cyber-attacks. As ransomware and hacks continue to make headline news, we examine what the evolving threat landscape looks like in 2017 and what businesses can do to ensure they avoid common pitfalls and mitigate the risks they face. With a new breach happening every week in the press, and countless others happening behind closed doors, what do businesses have to do to protect themselves?
The UKFast Bus
As well as hosting round tables, the UKFast bus is kitted out with as much fun and tech as we can pack in, and you're invited. Hop on and see our gaming area, impressive new tech demos, a hot desking area, a presentation space, an outdoor gazebo and garden, and (because why not) the bus's own bar. It's safe to say this is not your average London bus. We'll  also be hopping off briefly at The Shard to host Unlocked London.
Catch us driving around London from 12th to the 16th June. For a chance to hop on yourself and see the latest tech, meet Team UKFast, and even win a prize for finding us, just follow us on UKFast on Twitter:
If you'd like to be involved in either of the round tables, we'd love to hear from you, please email the communications team.