How Happy are your Customers?
In light of Brexit, the state of customer satisfaction nationwide has continued to improve according to the latest UK Customer Satisfaction Index (UKCSI). The score at the start of the year was 77.8, up 0.8 compared to 2016. This growth has remained consistent over the past four consecutive years too, proving that organisations are getting things right the first time around and are dealing with complaints more efficiently.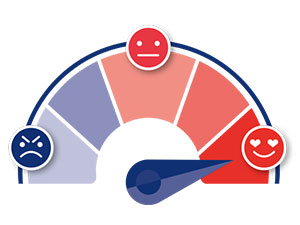 Nearly all 13 industry sectors have improved over the last 12 months, except the automotive which has remained flat. Nevertheless, it's a revelation in the way we work and proves beneficial because the gap between the highest and lowest performing sectors has narrowed. Oracle, a multinational computer technology corporation found that 81% of customers would be willing to pay more in order to receive superior customer service – a true testament that a solid relationship with clients pays off.
Furthermore, customer effort has increased by 0.3 points after having been flat since January 2015, and the Net Promoter Score's proportion of advocates who strongly recommend a company minus the detractors fell by 5.2 points. It's curious, however, that the number of customers experiencing issues with an enterprise has grown from 12.6% to 13.1%. Usually, when overall customer satisfaction increases in a country, the number of problems experienced decreases.
The Net Promoter Score
If you haven't heard of the Net Promoter Score (NPS), it's not just a number. It was developed by Fred Reichheld in 2003 to determine a business' level of customer satisfaction. Scaled between -100 and 100, the NPS works by calculating the average customer service rating: the higher the score, the better.
To get above zero technically means a company must have categorically pleased the majority of its customers.
In the hosting industry, however, the UK's average rarely gets above 10 as Britain performs notoriously badly on customer service. At UKFast though, we pride ourselves on going above and beyond the norm. First, we ask our clients one simple question: on a scale from one to 10, how likely would you recommend us to a friend or colleague? After that, we take the percentage of 'promoters' (customers scoring a nine or 10) and deduct the percentage of 'detractors' (customers scoring between zero and six).
UKFast's Net Promoter Score
True to form, UKFast excels in this area by consistently scoring over 70 which means our customers are 10 times happier than the average.
Chuckling Goat, a client of ours said:
"we can't fault the service. Any issues are sorted painlessly and quickly by our UKFast pod, who know our team by name and our company history by memory."
It's this undivided attention that makes us unique; we focus on the future as well as the now, using the NPS as a benchmark that can be constantly pushed. By following the NPS, we're aware of how our clients feel, what they like, and where we need to improve.
After all, it is becoming more difficult to compete on price and product alone across every industry. That's why service with a smile makes you stand out. And if customer metrics are used properly, you'll steer your business towards an outstanding level of support, better retention levels, and overall growth.
Client Relationships 
Another factor the UKCSI highlighted was that satisfaction varies by the intensity of customers' relationships with organisations. There's been a notable shift in the way clients interact, whether via website, web-chat, apps, text, and in particular email – this has increased from 4.9% to 9%. The research showed that emails were used for potentially challenging interactions, such as making an enquiry or reporting a problem – a reflection on Britain's renowned over-politeness.
As UKFast underpins everything we do with our dedication to unbeatable customer service, we proudly post our industry-leading NPS score live on our website. How have we maintained ours? By implementing the NPS into our business – not only as an incentive to encourage healthy competition between colleagues but also as a way of making sure we're always excelling our customers' expectations.
What makes UKFast unique is that we ask 'why?', rolling out an in-depth survey to gather answers. We also devise an in-house reward system to encourage team members to make a little extra effort with their clients.
NPS Whitepaper
For further ways you can successfully utilise the NPS and increase your business' score, download our whitepaper