The Cisco Networking Academy and UKFast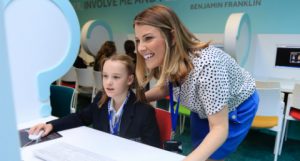 The digital world provides endless opportunities. From collaboration and communication, to knowledge and new skills – technology really is everywhere.
In recent years it has filtered through every industry, which is why it's incredibly important for children to come out of education with the skills to equip them to work in an increasingly digital world.
More than 11 million people in the UK do not have basic digital skills; a shocking statistic that highlights just how important it is for an uptake in digital literacy and computer science in schools. And, according to a recent report by the House of Lords, teaching students how to thrive and survive in our internet dominated world is now as important as reading and writing. But is this filtering through?
The Cisco Networking Academy is a worldwide IT skills and career building program. It has been successfully helping education institutions, instructors, and students for more than 20 years. As advocates for digital learning, we hosted the Cisco Networking Academy conference last week here at UKFast Campus, with speakers taking to the stage to discuss the importance of digital literacy in the classroom.
There were some incredible insights from each speaker. Did you know that 97% of hiring managers say they will bring on Linux talent in the next six months? Or that the fastest growing job at the moment is that of security consultant? Times are changing, and technology is the driving force for that change. These findings only further emphasise the importance of teaching the younger generation about the endless career opportunities in technology and equip them with the right skills to get there.
The speakers – from primary school teachers to lecturers – also highlighted that a career in technology doesn't always mean you'll be sat behind a computer all day long – there are roadmaps available to show young people just how many exciting jobs are available, in so many different industries.
Here at UKFast, we work with more than 57,000 children across Greater Manchester, through workshops, Code Clubs, work experience placements and so much more. We are strong advocates of teaching the next generation just how valuable digital skills are, and we have been working for more than a decade with schools, colleges and universities to help bridge the skills gap and bring equal opportunities to tech education in Manchester and beyond. Our application for a new digitally-focussed high school in Manchester was also recently approved.
There's no time to rest, it's up to businesses, schools, leaders and the government to make this change, and to make digital literacy a compulsory life skill.