High Five!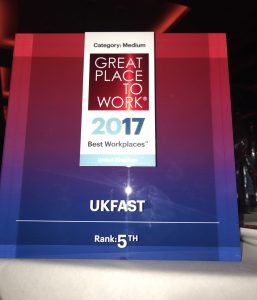 What's it like being part of team UKFast? Is it really a Great Place to Work? Having last night been named the fifth greatest mid-sized workplace in UK – the top mid-sized technology firm and the top in Manchester – it would seem so. We asked one of the team for more details…
The manner in which some of the team disembarked the tour bus at UKFast Campus this morning told me it had been a good night in London. They'd taken the 'party bus' down to the Great Place to Work Best Workplaces awards and picked up a hefty award for UKFast's position as fifth in the UK.
The accolade comes just weeks after we were named as the best place to work in Manchester and fifth in the country by the Sunday Times Best Companies team. We must be doing something right, right?
Is it the paid-for parties and plush transport that's got us into that list? Or the summer festival with chart-topping, headline acts? Or the shiny new gym equipment that would put any commercial facility to shame?
For many, it's about the peace of mind that Bupa healthcare gives, the onsite crèche and the extra week's holiday to help with the chaos of a wedding. For the people who are being helped, behind the scenes, through times of serious hardship by the business that they give their all to, it's about family values, job security and discretion.
Truth is, the perks, policies and plans that make this place great have developed and expanded so much in the last 10 years, every person will have a different story to tell about what means most to them. It's surveys like Great Workplaces that give employees the opportunity to share those experiences.
To be included in the top five in the whole of the UK, and ranked alongside huge brands like Twinings, Paypal and Lindt is recognition of how far we've come.
This year we sit in the 'medium' category of the Great Place to Work lists with companies who employ between 50 and 499 employees. Our team is three times bigger than our neighbours in the top 10. With 400 people making up the UKFast team now, that's a lot of people to look after and a responsibility we don't take lightly.
In many ways, that's what makes us most proud when we come away from nights like last night where we get a pat on the back for how we do things. Our growth hasn't meant that our culture has been diluted or the way we look after people has become less of a priority.   We've managed to maintain – in fact, improve – the way we treat our team whilst growing at an impressive rate.
We've always invested in looking after the team but when there were 10 of us that was undoubtedly much easier. When you're all in one small office, understanding what people needed and valued and catering for that is manageable. Logistically, organising activities to bring the team together was much simpler.
We're fast moving into the next era of growth, when an outsider could look at our numbers (people, turnover, projections) and confuse us with a cold corporate that lacks substance. But last night's award, and reflection on how we've nurtured the team over 17 years, tell me we'll be showing the big corporates how employee satisfaction is really done.