Machine Learning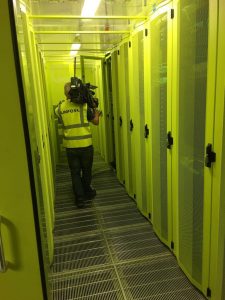 It's not every morning that a van with a satellite perched on the top pops over to our data centre and the team from BBC Breakfast roll out. With machine learning causing quite a stir in recent months, the BBC team were covering the latest tech story and there was only one place to do that – right at the heart of the internet in our MANoC data centres.
Machine learning is a form of artificial intelligence (AI) that allows machines to learn from situations and human behaviour to make smarter decisions and become more efficient. Whilst that may sound a little iRobot, it does present huge opportunities for medicine, business and pretty much every other part of our lives.
With more and more machine learning news hitting the headlines, this morning we helped BBC Breakfast shine a light on the growth and delivery of machine learning in the UK. The Beeb visited our data centre complex to examine the kind of high-tech, high-security facilities required to store and instantly process the mind-blowing amounts of data needed for machine learning to work effectively. With 90% of the world's data generated in the last five years, data storage solutions are becoming an ever-more-important part of the technology mix.
This kind of AI may seem like a futuristic technology, but the fact is it's a bigger part of our everyday lives than we would assume.
For example, the smartphone in your pocket is beginning to use machine learning. Siri, Cortana, Alexa and other assistants are machine learning superstars, absorbing a huge amount of data from your interactions; learning how you speak and the commands you are likely to use.
Machine learning is also operating behind the scenes every time you buy something online. Those messages suggesting you might like to buy a new pair of trainers or a new set of kitchen knives are informed by machine learning and every time you interact with intelligent eCommerce platforms you are teaching the machines to serve you more efficiently. Smart stuff.
Social media providers are, of course, wasting no time in deploying machine learning within their platforms. The algorithms that decide what you should see in your feed and which content you are more likely to engage with are built around machine learning, as is the facial recognition system used to automatically tag photos.
As we told BBC Breakfast this morning; cloud-based services like our eCloud are enabling thousands of businesses and organisations. From the one-person-band setting up a simple online shop, all the way up to global firms and government departments deploying machine learning in their products and applications. The one thing they all have in common is a mission to deliver greater value to their users and greater efficiency within their organisations.