My First Impressions of UKFast

It's fascinating to see the world through someone else's eyes; perhaps that's why it's so easy to get lost in a book or an anecdote.
Last week we were joined by a young lady who is just beginning to think about the world of work and where she fits within it. Spending time in different departments of the business, completing real-value tasks rather than just busy work and contributing to the team, Phoebe was a work-experience dream. She also wrote a blog post about how she sees UKFast and working in a fast-growing technology firm.
Here it is…
My First Impressions of UKFast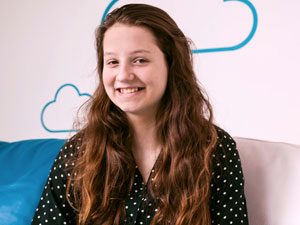 Recently, I was lucky enough for my year group at school to be given a talk from UKFast about what makes an entrepreneur, and received a glimpse of what seemed to me, to be a kind of fairy-tale workplace. After listening intently to an hour-long presentation about how being proactive and confident will get you far, I decided, why not attempt to get a work experience placement here?
In short, a few weeks later I was waking at 6am, anxiously excited to get two buses and train to a place I'd never been to before, but all the same a place I already knew I was lucky to be going to. As soon as I walked into the building, the first thing that stood out was the colour. Everything is vibrant and bright, and it made even the cold, rainy Manchester morning seem cheery and exciting. I was given a visitor pass, a tea and a friendly smile as I waited with nervous excitement for the day to come. While sat waiting, I watched everyone walking past me to arrive at work; from strolling along, relaxed and chatting, to out-of-breath cyclists and runners, everyone was smiling and friendly – not only to each other but also to the random, 14-year-old girl sitting in their reception area.
Soon I was greeted by Aaron Saxton and quickly my nerves were put at ease. His bubbly, talkative personality helped me relax and I soon discovered the day's plan. To begin with I shadowed Aaron as he gave a tour of the building to Loreto College. I was amazed. I had accompanied my parents a few times to their offices before, but none of them were anything like this. Those dull, lifeless buildings could have in no way prepared me for not only the eye-catching colour and positive chatter everywhere, but also the facilities that I would never have imagined a workplace having. From the gym to the child care, the helter-skelter to the bar, and the sleeping pods to the auditorium; what stood out to me the most was how focused UKFast was on making sure they had happy, healthy employees.
After the tour, I was fortunate enough to sit in on a very interesting talk given to the college students about Sonic Pi. As I am only in Year 9 I haven't had much opportunity yet at school to use many types of programming other than Python, so the chance to get thrown in with a computer, a booklet and an overenthusiastic attitude wasn't one I wasn't about to miss. Sonic Pi is a live coding music synth and although the music I programmed wasn't exactly the best in the room, it made the journey to the screeching I created all the more fun!
As the college left, I was quickly whisked away to a different floor where I joined the Communications team. Continuing and even surpassing the now very high standards and reputation UKFast had in my head, everyone greeted me with bright smiles and friendly questions. I was set up with my own computer and soon started reading their recent newsletter. I realised how much is going on here; there were pages and pages of achievements…and this is given out monthly! I also loved how the newsletter could jump from celebrating someone's 16-year anniversary of working here, to top tips to stay healthy, or from celebrating a wedding, to someone's favourite choice of wine. It really made UKFast feel like a family and a place where the employees would be interested in reading about their colleagues' opinions and personal lives. Out of all of this, what I liked the most was the last page – 'Feel the Love'. This page contained comments anonymously written by staff about their colleges, ranging from jokey remarks to heartfelt compliments; all of them contributed to my view of UKFast as a friendly family where people truly enjoyed working.
I was quickly pulled out of my admiring daze when I was given a new task. For the afternoon I was going to be researching, looking through archived reports and analysing the information. As simple as it sounds, it got slightly complicated quickly. Again however, small problems like these made everything much more fun because it made me feel so pleased with myself when I overcame them.  I was enjoying my work experience so much that I even forgot to go and get lunch!
I knew I only had one day to make the most of the opportunity so I didn't want to waste it by taking the hour I was supposed to take off for lunch. I was so adamant about carrying on with my spreadsheet that one of the members of the Communications team even went out to buy me some lunch and refused to let me pay them back; further showing me how relaxed, positive and kind working in a place like this could make someone be."You know that the UKFast team is a real family."
It got to the point where I desperately wanted to do as much work as I could, resulting in me being allowed to stay an hour extra and progress further with what I was doing. I knew I was pushing my luck a little, but if I had learnt anything from this whole experience then it was definitely proving the points I learned from the talk at school – that being proactive and confident could get you far. Based on this I decided to ask if I could come back and do some more work experience during the Easter Holidays, and I was bubbling with excitement when they said yes!
As I left the building, an hour later than I was supposed to and with the promise of returning next week, my smile all the way home and even in school the next day spoke for itself – and succeeded in making my classmates very jealous. As someone who can sometimes be very shy and nervous but can sometimes find a switch to flick which makes me a whole new 'proactive and confident' person, I realised the power I could harness if I took control of this switch.
My experience with UKFast taught me so much; from how to use Sonic Pi to how to arrange travel to get from a small village 20 miles away to the big city of Manchester. I've realised I can be clever and high achieving without having to work somewhere boring, I can have fun and relax without producing work to a lower standard, and most importantly, I can achieve much more than I realised with a bit of proactive confidence.