Running a Business
Why do we focus on health and wellbeing?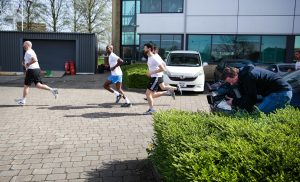 It's very simple. When you feel well, you're happier and who doesn't want a happy team? Plus, a happy team is more likely to offer an incredible level of service for our clients; happy team = happy clients!
But there's more to it. It is a challenge to try to squeeze everything into the day and work full time. And we've all seen the motivational quotes and posters that say: "if you don't make time for exercise, you make time for illness". It's true. From a business point of view, it really does make perfect sense.
According to the British Heart Foundation, more than 20 million people in the UK are physically inactive. The charity estimates that this costs the NHS £1.2bn a year!
When you consider how many of us work in office jobs sitting at a desk for 7 or 8 hours a day, it would be easy to fall into the trap of being inactive and that leads to low mood, low energy and poor health. Why wouldn't we do all we can to avoid that!?
We were joined by BBC News to talk about our health and wellbeing focus earlier today – you can watch us at 6pm on the evening news on BBC One later tonight. For us, health and wellbeing is about balance and choice, and whatever that looks like to each person: running a marathon or jogging a 5k; lifting weights or blasting some cardio.
Our onsite gym is packed full of weightlifting equipment, brand new treadmills, spinning bikes and everything in between. From this equipment, team UKFast has created a calendar of fitness classes including a daily running club, kettlebells three times a week and a twice-weekly spin class. Alongside this we also have free twice-weekly yoga classes, and company-funded football and netball teams.
Every now and again, our friends from the sporting world come and offer a masterclass or fitness session – so far we've had sessions and events where we've heard from Olympic athlete Diane Modahl, Squash champion Laura Massaro, England rugby ace Mark Cueto and running legend Ron Hill. The message from all of these is the same: the healthier you are, the happier you are. Sport and the lessons learned during exercise can be transferred across business, from goal setting to resilience and team work.
Exercise guidelines recommend at least 150 minutes of moderate aerobic activity or 75 minutes of vigorous aerobic activity every week, and we do all we can to help our team reach that.