Ruling the UKFast Roost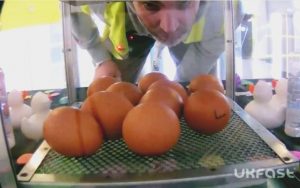 The UKFast team has grown from 200 to 350 in the past year; safe to say, we're pretty used to seeing new faces on Campus. But our newest additions to the UKFast family was something we didn't eggspect…
When our MD Jonathan Bowers dropped a subtle hint during our Monday morning Town Hall Meeting, we knew something eggstremely eggciting was afoot. And we weren't disappointed, as later on that day reception turned into an Easter paradise, complete with chicks in the making! That's right – the eggs that our founders Lawrence and Gail have brought to UKFast Campus are set to hatch in the next couple of days, and we're all eggstatic about it!
Obviously, there'd be absolutely zero chance of us sitting still when potential baby chicks could be cracking out of their shells right before our eyes on the ground floor! Once they're hatched and named we're sending them to their permanent grassy home in rural Cheshire.
At the minute they wiggle occasionally (and adorably), but we're eggspecting things to liven up very soon.
Watch with us as our little buddies emerge into the world!
Could you make such a cracking addition to Team UKFast? We're hiring.