Reasons to be Cheerful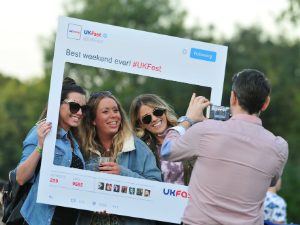 Happy Monday everyone! Today is International Day of Happiness – a day for us all to think about what makes us smile and to spread happiness where we can. Well, here at UKFast Campus, we've woken up to grey skies and pelting rain. It's no surprise in this soggy city but that's not stopping us!
We've been having a think about what Team UKFast has to be happy for today, and a few things sprung immediately to mind. Firstly, we're still on cloud nine after winning 'Cloud Managed Service Provider (MSP)' at the UK Cloud Awards last week.
Secondly, we're still sliding down our helter-skelter like there's no tomorrow; the shrieks of laughter are heard across the office!
And thirdly, we're happy that International Day of Happiness reminded us of the video below, that we made back in 2014. It still makes us chuckle and reminds us of the amazing, collaborative community we're proud to be a part of.
We're also happy for reasons broader than UKFast and its community; in fact, there's plenty for us to be happy about that we think our readers can relate to. We thought we'd share just a few:
1. It's Monday.
Though Monday isn't traditionally a day for celebration, think of it this way: you've got a whole week ahead to smash your goals, to plan in something awesome and to make a difference. Whether that's in the gym, at your desk or at home, today is a clean slate to set a new goal and smash it this week!
2. We've made the grade.
According to a study published this morning, Norway is the happiest country in the world. Britain came in at 19th – not bad when there are 195 countries across the globe! Despite the wind and rain, and Brexit of course, we're a pretty happy place to be!
3. We've got it good.
If you're reading this, chances are you have plenty to be happy about. You have a device to access this content, which means you must have a life that is pretty comfortable compared to many others. Sometimes we just need to stop and look around us; there's no happier feeling than being grateful for all you have.
4. We've got a reason.
While the sceptics out there might turn their noses up at a day dedicated to acknowledging the things that make us smile and striving to boost our happiness, we see it as a tool for good. The fact that there is a day given over to happiness tells us a lot about humanity; it shows us not only just how important happiness is, but also that it's something we desire for ourselves and for everyone else. Instead of grumbling at 'another international day of nonsense' take it as an opportunity to have a fantastic start to the week.
We all deserve happiness, and whether you do something to bring a smile to the face of a colleague, friend, family member or yourself, today is a reminder of that.
Does your hosting make you happy? We pride ourselves on looking after our clients.