Ahead in the Clouds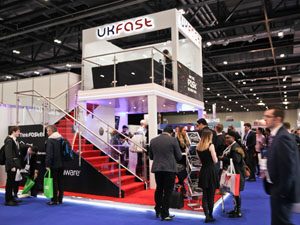 We headed down to London this week and were greeted with warm, sunny skies and not a cloud in sight. That much can be said for outdoors at least, but it was a completely different story in the ExCel as the huge theatre was completely taken over by cloud – computing, we mean.
Cloud Expo Europe is one of the year's biggest event for all players in cloud, and a great opportunity for both providers and customers to gain insight into the offerings of virtualised hosting as well as what's to come on the cloud front.
Hundreds of vendors turned up across the two days and we're proud to say that the UKFast two-tier stand stood tall and proud.
On ground level, our team thoroughly enjoyed meeting hundreds of cloud enthusiasts, providing them with a glass or two of champagne and tons of merch – think t-shirts, goody bags and rubber ducks. We also challenged expo-ers to our Star Wars-themed pod-racer game, the winner bagged a BB-8 droid and some extra goodies. Team UKFast was there in full force, along with our MD Jonathan, as well as our founders Lawrence and Gail.
But why did we have a two-storey stand? The main reason we added the top platform – accessible via a red carpet nonetheless – was so that we could bring our round tables along with us to events. It's a no-brainer for us; while we're surrounded by experts in the field, why not make the most of the opportunity and get them together to shed light on the hottest tech topics of the moment? We're delighted that it proved a roaring success at Cloud Expo Europe, where we hosted three fascinating round tables: Cloud Developments, Big Data and the Internet of Things and Storage and Security.
It was great to see and hear from some of our friends including Venntro, Cisco, VMWare and Pentest, but also an amazing opportunity to meet new faces that we hope to collaborate with in future.
It was an amazing couple of days for UKFast, and an absolute pleasure to be able to speak to so many other cloud experts. We gathered a wealth of content that we can't wait to share with you; keep your eyes peeled over the next couple of weeks as we go live with some of the hottest cloud news from the expo!
Are you getting the best out of the cloud? We provide industry-leading solutions.