First Impressions at UKFast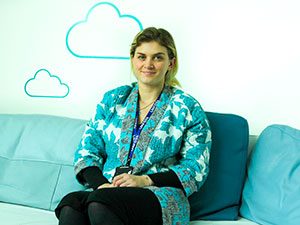 New team member Emma gives us a sneak peek into her findings after her first working week at UKFast.
After just a few days at UKFast, I had a revelation – limitation is not in the company's vocabulary. I was willingly thrown in the deep end, from photographing the minister of state for digital and culture, Matt Hancock, to taking the plunge down the Campus' new structural addition, a hair-raising helter-skelter – and I couldn't be happier.
As a photography and journalism graduate, I previously worked as a copywriter where I laboured over a computer all day, every day. Even though I appreciate the many skills I attained, the next career step was due and UKFast was calling. A dynamic, fun and professional company, I felt right at home when welcomed with smiles from day one. Joining the Comms team as a copywriter and photographer, the breadth of opportunity is huge as I dabble in both art forms daily.
Something that has become apparent while working here is the infectious energy that runs throughout UKFast. Everyone is excited, engaged and upholds a 'work hard, play hard' attitude – a quality no organisation can force. Why? Because the CEOs care. Unlike other tech enterprises, they promote fraternity ideals, building a community with Beer Friday, fitness clubs and trips away. Here, you're not just a number; everyone says hi and seems to know my name – and if they don't, they take the time to introduce themselves.
The all-singing, all-dancing UKFast Campus is something to shout about. A hive of activity, it's home to a gym, pool tables, arcade games, sleeping pods and a sauna for all to enjoy during lunch breaks. They're huge morale boosters and a nod to the key principles the company lives by – dynamism, innovation, passion, professionalism and supportiveness. Like a magpie, my eyes were instantly attracted to the campus's vibrant palette of greens, yellows, blues and pinks. Each colour is carefully placed to keep creative juices flowing and brighten even the dreariest of Manchester days – a welcome change to the white-washed walls I was once accustomed to.
My first few days were spent with other new starters and the riotous duo, Sax and Arlene, who gave us a general insight into the world of UKFast.  Regardless of the team you join, everyone receives the same warm welcome, touring the data centres and getting to grips with what keeps the tech titan ticking.
What have I learnt so far? That professionalism doesn't have to be boring. UKFast is an industry-leading hosting provider, and with immaculately kept workspaces, top-class support, high-spec security systems and an authentic community spirit, it's clear to see why. I arrived humbly from a non-technological background knowing very little about the digital market, but within just a week, I've already emerged wiser, brighter and happier. Today, society dictates a lot of chop and change in the career sector, but I can see myself staying at UKFast for the foreseeable future.
If you'd like to join Manchester's top company to work for, visit our careers page – where all our superstars are born.