Helping Students Understand Programming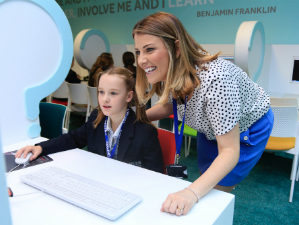 Today is Programming for Primaries Awareness Day, a day to big up the importance of introducing computing to children from an early age. Alongside this, it's a reminder of the areas of the community that are working extremely hard to make IT second nature to children. Closing the digital skills gap is something that our Manchester Man, Chris Marsh, is passionate about.
Here, he tells us about his involvement with Code Club and his hopes for our future techies.
If you think back 15 years, what mobile phone did you have? What technology were you using day to day? Were you like me, sitting waiting for a fax to come through.
The exciting thing about looking back is that it makes us realise what technology might look like in another 15 years, and how it could help us. Whether this means artificial intelligence, advancements in IoT, or – more than likely – something completely yet unknown, we're going to need skilled people to create and drive future technologies.
These people are at primary schools right now; some are specifically interested in computing and technology, but others simply inquisitive with a problem-solving brain.
For more than three years, I've been helping out at a Code Club at a local primary school just around the corner from UKFast. I find it hugely rewarding to encourage eight- and nine-year-old boys and girls to take an interest in and maybe develop a talent for programming.
Code Club is a not-for-profit organisation that provides volunteer leaders with resources and games using IFTTT – a simple scripting language – to introduce children to coding in the hope of expanding their career options and broadening their ambitions.
At my Code Club, we recently taught the children how to create a username generator in Scratch, a simple safety tool that enables you to select a secure sequence of memorable words when logging into sites. Following the previous week's Safer Internet Day, it reinforced the importance of paying attention to how your data is used online.
Even more recently we created an updated version of Space Invaders using simple commands and variables. It was a great activity; the children loved putting it together and really showed their creativity and problem solving skills, which boosted their confidence too.
At UKFast we actually have apprentices running Code Clubs – they're real-world role models for these young children to look up to and we're seeing extraordinary results. We work with Python and Scratch and help the children create their own games rather than just playing them. They're so successful that it's now been accredited as a Star Code Club.
Code Clubs are simple to set up and there are so many activities for children of varying ages and abilities to get involved and develop an interest and skills in computing. We all hope that our Code Club kids will continue this habit through high school and beyond; who knows, perhaps the next Ada Lovelace or Bill Gates will one day reference Code Club as a foundation or inspiration for their innovation!
UKFast Campus's next Code Club takes place on 12 April; email the Code Club Team to find out more.