Jogging Your Muscle Memory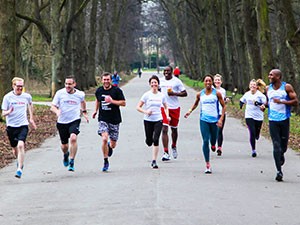 This week, the skies have most definitely cleared (minus the bouts of rain). And with race training season upon us, we couldn't be happier to unplug the treadmill and set our limbs free in the fresh air!
UKFast culture is built around activity; the Campus is a busy hub of productivity, and we believe that looking after your physical health can only benefit how you perform at work. Exercise is also an opportunity to take some time out to let your brain relax and if you're ever feeling a little uninspired, getting moving is the best thing that you can do!
We help our team maintain a happy body and mind in a variety of ways. Our onsite gym allows the whole company to keep fit in whatever capacity they like; from pre-work workouts, lunchtime cardio right through to evening steams, there's usually someone doing something in there at any given time of day.
It's great that so many of our team use our facilities to train and decompress independently. Some people really benefit from solo exercise, taking time out to focus or distract in a constructive way. Variety is the spice of life though, and it's just as common for people to need encouragement and group stimulation to exercise. Our gym is used for team-led kettlebell sessions and spinning, and we lay on other classes like boot camp and yoga with external coaches. The UKFast team spirit is reinforced by our sporting triumphs – we have a formidable netball team and an impressively accident-prone football posse.
Another huge part of our culture of fitness and wellbeing that I've intentionally left out of my comprehensive roundup is running. One of the most straight-forward forms of exercise, it also happens to be one of the most popular and – certainly at UKFast – one of the most practised. UKFast Running Club goes out as a collective every single lunchtime, come rain or shine (in rain more often than not). UKFasters of all abilities join in; whether complete beginners or closet Olympians, our runners set out together and encourage each other along the way.
Another foundation of our culture is goal setting, and this applies to our running club in a big way. Establishing a goal is not only the first step in actually achieving it, but laying out intentions also has a funny way of driving our general productivity, helping us stay motivated in all aspects of our work and personal lives. Through our partnership with Sports Tours International, we sponsor July's We Love Manchester 10K and September's Salford 10K, which provide the perfect opportunity for our running club to project very real goals and work towards them together.
The elation felt when crossing the finish line at a race is pretty incredible, and only two things can really top it; firstly, ripping through the ribbon and taking home the trophy (which we leave to the professionals), and secondly – but extremely realistically –starting and finishing as a team. Whether that means picking up running mates and staying together one kilometre after another, or, catching sight of someone in a UKFast shirt waiting and cheering when we fear our legs might not carry us to the end, the support that we give each other makes the sport something really special.
Our clients often get involved too; we see them as an extension of our business, so naturally they share in our sporting successes and celebrate with us post-race. We're incredibly excited for this year's racing calendar and can't wait to see the streets of Manchester and Salford brimming with our team on both race days.
Fancy joining us? The We Love Manchester 10K takes place on Sunday 9th July.