(Digital) Strategic Thinking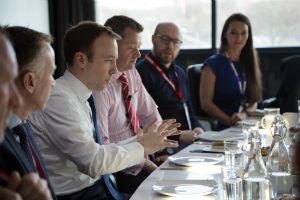 Last week, the government announced its 'Digital Strategy' – a plan to "make Britain the best place to start and grow a digital business, trial a new technology, or undertake advanced research."
It's an announcement that many will have greeted with scepticism – the latest public sector scheme that few will feel the impact of after the fanfare dies down. Less than a week after the launch, we welcomed Matt Hancock, Minister of State for Digital and Culture – whose department is behind the Digital Strategy – to UKFast Campus to show him what digital business in the UK is all about.
The minister chose UKFast to host a lunch with leaders from flagship firms in the North to discuss the growth of our digital economy. It's refreshing to see this scheme going beyond lip service and quickly being felt on the shop floor inside businesses like ours. We're also proud that he looked to Manchester for his first visit since the strategy was launched. For too long the focus has been on the potential for London to rival the biggest and best tech hubs around the world like Silicon Valley.  Our CEO, Lawrence, has long championed Manchester as the leading tech city in the UK, so it's great to see the government building momentum and connecting with entrepreneurs in the North West.
High on the minister's agenda is training and development, and tackling the skills gap – a timely conversation given that this week is National Apprenticeship Week and we're celebrating our apprentice cohort and everything they have brought to UKFast since 2013.
We believe UKFast is setting an example when it comes to training, with former school teachers leading our industry-certified testing and training centre, creating their own curriculums for apprentices, and working closely with schools across the UK to deliver hands-on tech experience with pupils.
It was an incredible honour to host the event and be part of the conversation surrounding the growth of our digital economy.
We know sometimes public sector initiatives, shrouded in wordy Whitehall language, can be too intimidating to even attempt to understand. So we're doing the hard work for you and breaking down the 'Digital Strategy' into everyday language, highlighting the elements you should be aware of and any potential benefits for your business.
Watch this space!
Our newly-launched Apprenticeship Scheme is open for business.