Chute for the Stars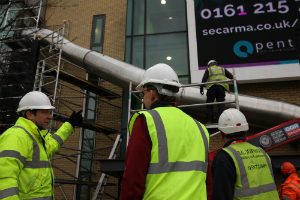 Our business is known for never doing things by halves, so in true UKFast style, we're putting a twist on the iconic office slide.
Speculation has been mounting in the corridors at UKFast Campus for some time now; stolen conversations by the coffee machine, whisperings in the Zen garden, low murmurs in the bar. And on Friday, when a crane arrived with a very large circular tube, the rumour was quashed and excitement hit an all-time high. We pride ourselves on always staying one step – and a few turns – ahead of the curve, so we're delighted to announce that our questions have finally been answered, and we've installed our very own, custom-made outdoor helter-skelter!
Over the past couple of years, an indoor slide has become a common feature of the offices of modern, forward-thinking businesses. It's almost a symbol of innovation and creativity; a company with a slide is probably a company with incredible employee benefits and a steadfast ethos of making both its clients and its team top priority.
UKFast does a pretty good job of representing all those things too; we just haven't had the playground installation to prove it. Well, until now.
It's no secret that we have a pretty impressive setup here – in fact, we've won awards to prove it: this month we took the top spot in Manchester for The Sunday Times' Best Companies to Work For, placing fifth overall in the UK. We've featured in its rankings for the past seven years, and another six in Great Places to Work's 'Best Workplaces', including a fifth place spot in 2016. The array of features and facilities – the gym, the purpose-built auditorium, the famous sleeping pods (watch this space for more news on that front) – have earned us a reputation that reflects our dynamic, passionate and fun way of working.
While some would say that UKFast Campus is already a design dream, the addition of the helter-skelter will by no means go unnoticed. Snaking round the outside of the building, its silvery body allows both the team and clients to travel from the top floor to ground level reception in a matter of seconds. Speed is our game, so it makes perfect sense that we can now travel at the speed of light!
We persevered and last Friday the helter-skelter was finally ready. Through a series of competitions, we picked three lucky – and plucky – UKFasters to christen our helter-skelter, and they took the inaugural plunge on Friday afternoon.
Their comments:
Kirsty: "Pretty good – I picked up some real speed towards the bottom. Can see myself using it after yoga to slide down to my desk rather than staggering down the stairs."
Sara:  "8/10, would slide again."
Trish: "Absolutely hilariously brilliant and awesome. Class."
We welcomed Minister Matt Hancock in for a visit today, and he couldn't resist but have a go himself. He said it was "the most fun I've had in years."
And with that resounding endorsement, we hope that many of our clients will get involved when they come to see us. The UKFast helter-skelter is an exciting addition to Campus, promising fun and fast exits for both our team and visitors alike. Stay tuned to see how it goes down; we'll keep you in the loop as it starts to gather momentum.
Fancy sliding through the week with a smile on your face? We're hiring.