Fast Times at UKFast Campus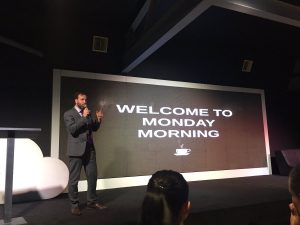 As I am sure you know, we're big fans of nurturing the next generation of tech superstars, with our apprenticeship scheme, school workshops and work experience placements. The enthusiasm and refreshing perspectives that younger – or newly trained –people bring to the UKFast fold often boosts our productivity and creativity, and gives them real industry insight in return. Grace, who came to us for a week and split her time between the UKFast teams, left a lasting impression with her can-do attitude and inquisitive nature on everything we do. The feeling seems to have been mutual; here she shares her views on her experiences working with UKFast.
Although having only seen within the walls of UKFast a few times, it's not hard to feel overwhelmed with the genuine sense of passion and positivity here. Working at a desk from 9 till 5 often comes hand in hand with boredom and routine, but it's safe to say that here at UKFast, the game is changing.
My day started with Monday's Town Hall meeting which was something I hadn't quite experienced before. It was surprising to hear such laughter before 9am on a Monday morning! The meeting involved many members of staff being congratulated on their various professional and achievements, as well as slides showing 'bromances' and 'romances' amongst the UKFast family.  This was followed by a fascinating tour of the business, which involved meeting each team and having a 'behind the scenes' look at what the people here really do.
I found that each team is home to a dynamic range of brilliant people who are keen to put in the work and thrive both individually and as part of a group. Having spoken to quite a lot of people at UKFast, it's clear this workplace is like no other. From the quirky interior to the remarkable achievements that are continually being made, the UKFast family really does work hard and play hard. It's no surprise that the individuals here show pride and joy in what they do – whether that's the on-site builders or the techies, the atmosphere here is always far from dull!
One of the main factors that stood out for me was the number of young adults working here. It's rare that companies often appreciate and acknowledge the importance of young adults who are eager and enthusiastic to both learn and grow, hence the company's unique culture and fast-growing apprentice team. Efforts across every team never go unnoticed; if it isn't applauded during Monday's team meeting then it's featured within the monthly UKFast magazine that's sent out to all friends and family of UKFast. This company is always developing, and the current top secret preparations I got to see were just one of the many wonderful and wacky examples!
The unique core values of UKFast are reflected around every corner, bean bag and sofa. I came across many motivated and driven team members who didn't hesitate to make me feel welcome and express their genuine passion for their job and the company's fundamental ethos. UKFast reflects a rejuvenated business style, cherishing the people rather than their qualification. During my week of work experience, I became part of a dynamic, innovative team and I feel lucky for the opportunity!
Would you like to join the UKFast family? We're always looking for superstars.