Good Things Come in Fives, Right?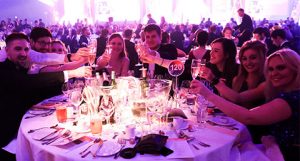 You know what they say about five: it's the magic number, it's company, it's the best…well, maybe they don't actually say any of those things, but today at UKFast we're seriously big fans of all things we can count on one hand. What's caused us to go completely penta-mental? The Sunday Times has just named us the fifth best place to work in the UK!
We've been officially recognised by the Sunday Times Top 100 Best Companies to Work For every year for the past seven, but the results at last night's awards ceremony blew us all away. Placing fifth is a huge endorsement for UKFast, and it also puts us in the top spot in Manchester!
We were thrilled to come in at 32nd place last year, when we were still ranked as a small business. Following the huge growth of the team over the past year, we moved into the mid-size category as a completely new contender, which makes the 25-place jump all the more spectacular!
The excitement at UKFast Campus is palpable, and with reason: the Best Companies awards are judged based on employees' own votes, so although we've been awarded an accolade, it's also a reflection upon how happy our whole team is. The awards breakdown also revealed that we're the second most caring, third most helpful and fourth proudest team in the country.
Our CEO Lawrence Jones MBE said: "To be the No.1 Sunday Times Best Company to Work For in Manchester is tremendous.
"The culture at UKFast is unique and it's created by the team themselves, taking ownership by setting up running clubs, netball, and football clubs. It's a place where people work out doing gym classes together run by fellow colleagues; an environment where all the departments interact and value each other."
We know we're a lucky bunch: we've got a top-of-the range office decked out with gym, lounge, auditorium, bar, zen garden and our newly added sleeping pods; we're rewarded with amazing opportunities like skiing trips to Verbier, teambuilding weekends in Snowdonia, holidays to Las Vegas and three-day festivals with VIP headliners. Being officially recognised for the enthusiasm and passion that everyone puts into our work culture is a testament to the whole company.
Businesses big and small are wising up to the importance of a healthy working culture, and this award just goes to show what investing in your team can bring. Lawrence Jones MBE said: "I am hoping more business owners will follow suit and realise a happy workforce creates a strong, profitable company and a happy team provides better customer service. That's why we work so hard to ensure our team work in a world-class and award-winning work environment that rivals the likes of Google."
So, as we spend the next year building on this amazing award and attempting to shoehorn the number five into anything we can get our hands on, we'll continue to make sure everyone at UKFast remains fulfilled and motivated. Huge congratulations to us all and – one phrase we can actually work with – high five!
Interested in joining the team at the best workplace in Manchester?