Looking (back)Up at the Clouds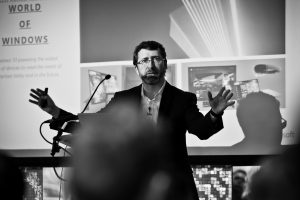 Last week, Team UKFast took its hugely successful Cloud UK Live event on tour to London. More than 100 people – and a few flamingos – joined us at Kensington Roof Gardens, alongside industry leaders including Microsoft, Cisco and VMware.
Discussions ranged from the ever-expanding Internet of Things, to how cloud is transforming our natural habits and the way we work – there was even a mention of how Instagram is affecting our eyebrows!
James Akrigg, head of technology for partners at Microsoft, opened proceedings with a thought-provoking talk that highlighted the ways in which cloud can transform businesses and people.
Cloud is still a hazy subject for many, but according to James, this is because it needs to be sold to the consumer as a resolution, rather than something in a box. He urged the audience "don't sell drills, sell holes": present the end user with the positive consequences rather than trying to sell them a complex product; communicate cloud as a mass of files, information and services all available at our fingertips.
"When we talk about collaboration, we talk about products, but with cloud it's about the outcome and what we can get done."
With statistics showing that 3.6bn of us are now using the internet (approx. 49.5% of the global population), we're ushering in a fourth industrial revolution that blurs the lines between the physical, digital and biological spheres.
James predicts that this revolution will give us more natural ways of working and remove the need for PC altogether in favour of Virtual Reality (VR) and Augmented Reality (AR). These new technologies are able to anticipate our needs and come to us with ways to facilitate our daily lives.
Large tech firms like Microsoft are investing heavily into cloud technology and making huge strides. James spoke about 'Seeing AI', a research project that helps people who are visually impaired or blind to better understand the world around them. Facial recognition technology allows users to become aware of expressions and other mannerisms they wouldn't otherwise register and respond to their surroundings in a deeper way as a result.
It's incredible to see how cloud technology is revolutionising our processes, enabling people to do things that were previously out of their reach and helping us help each other (especially in the health industry).
James ended his talk with a nod towards the importance of security for business: "There are two types of big businesses. Those who have been hacked and those who don't know they've been hacked." However businesses engage with the internet, they generate data. And however essential this data is to their operations – whether personal or customer – backing up has never been more important. If you were hacked tomorrow and lost all of your files, what date would your last backup take you to?