How Secure is the Internet of Things?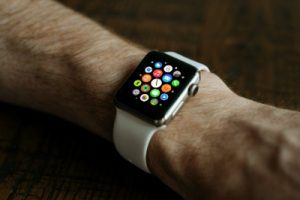 Have you got an Internet of Things (IoT) device? From easily identifiable appliances – think smartwatches and heating systems – to more novel items like L'Oreal's IoT hairbrush, we're integrating tech into our daily lives in a major way. Our new eBook addresses all things IoT and, in the first of a series of blogs, Dani explores the implications IoT might have on business security.
As consumers, many of us have embraced the new found convenience and efficiency the Internet of Things (IoT) offers, having placed our trust in the manufacturer to ensure that the product, and in turn our data, is secure. However, businesses must exhibit greater awareness of the data they possess and how it is handled internally as well as by third parties.
Data security is the topic du jour of 2017. Business owners should by now be aware of the need to comply with the Investigatory Powers Act and the upcoming General Data Protection Regulation (GDPR) deadline. These new regulations require that businesses are able to defend themselves, and therefore their customers' data, against distributed denial of service (DDoS) and ransomware attacks. The severity of these legislations are bringing cybersecurity in to the boardroom in a very real way for the first time and increasing the responsibilities of CTOs and CIOs as a result.
The rapidly growing IoT market means that the amount of consumer data businesses collect is soaring too. In a post-Edward-Snowden-world, the implications of this mass data possession are a matter of recent memory, and not mere speculation. More emphasis than ever before is being placed on cybersecurity by the EU and Westminster alike.
For the IoT industry, such scrutiny highlights the vulnerabilities that currently exist within the devices and their technology, and also warns us all of potential risks at hand as a consequence if the issues are not nipped in the bud at the manufacturing stage.
The GDPR lays the ground work for improved security standards amongst technology manufacturers with the requirement for privacy by design as a default, transforming what was once 'best practice' into a legal requirement for all businesses within or working with the EU.
We spoke to experts at cybersecurity firm Secarma to discover their take on the challenges IoT presents the privacy and security industry:
"Businesses are responsible and accountable for the data they hold. If a breach is due to a flaw in a third party device, it remains the responsibility of the data owner."
To hear more from the experts about the privacy and security of IoT and its impact on UK businesses, download the first in our eBook Cloud Series: The Impact of IoT on Business.