Celebrating Certifications and Coding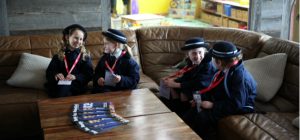 Happy Monday everybody! We hope everyone is as raring to go as the team here at UKFast Campus.
It seems Team UKFast have sped into 2017 with achievements galore. It's only mid-February and we're already posting a record number of exam passes for our team!
From Enterprise level Red Hat, VMWare and Microsoft masters to Linux Engineer oracles, it's amazing to see so many UKFasters adding serious strings to their bows. With all these qualifications, it's a delight to be making full use of our academy status and providing opportunities for professional development wherever possible.
It's not just our current team that we're devoted to developing, though. We've been waxing lyrical about our Code Club since we first began running them, but with such continued success and uptake, why would we stop?
Last Thursday we had the privilege of welcoming some VIP visitors to the Campus. Our fabulous apprentices have been making a huge impact over at Alderley Edge School for Girls, where they host a regular Code Club, and its five highest-performing pupils descended upon our corridors (tunnels) for a guided tour, followed by a celebration in which they all scooped certificates for their amazing achievements. Well done to them all!
The girls' success is not only testament to their own efforts, but also a great encouragement for our Code Clubs. We're dedicated to educating the younger generation in the ways of the web; it's the industry of the future – as well, undoubtedly, as the present – and we're committed to addressing the skills gap in every way possible, making sure that our world is equipped to deal with whatever incredible technological developments are thrown at us. Young people need to be leaving school with the skills to help them thrive in an increasingly digital workplace.
Not only are our Code Clubs now accredited Star Clubs and they're being run by our own apprentices too.
It's a perfect time to talk about our Code Club, too, as our next session, hosted at UKFast Campus, takes places this Wednesday 22nd February from 2-5pm. It's a great opportunity for young minds – of approximately 6-15 years, to be precise – to learn more about digital languages and get the chance to try them out for themselves.
We hold our Code Clubs every half term, and there are still limited spaces available this Wednesday.