Apprenticeships 101: Why Apply?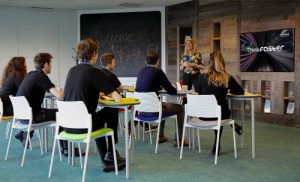 We've been repping our apprentices in a big way this week. It was the first anniversary of our huge apprentice intake following the collapse of Bright Future Software, and we've been celebrating the amazing progress and achievements of that 20-strong powerhouse. They're all flying; doing fantastic work and making a real difference alongside the rest of our apprentices, who've come from near and far and filled a variety of roles.
Last week, we announced the launch of our exciting new apprenticeship scheme aiming to find the next group of incredible young tech talent, which offers fantastic opportunities for any young person wanting to learn any of a wide range of skills, on the job. And at UKFast our apprenticeship scheme is like no other.
All our apprentices make a huge impact at UKFast; they bring enthusiasm, new ideas and inquisitive minds to ensure we're constantly upping our game. We can't sing the praises of our apprentices loudly enough, but don't just take our word for it – we've got the lowdown and highlights from some of our most cherished trainees, and they seem just as keen on us as we are on them.
Josh, Windows Engineer, joined UKFast in February 2016.
"UKFast is always dealing with the latest technology, so everything is really hands on. It's all about sharing here – in other places, people hold onto knowledge for themselves, but here, everyone helps each other in any way they can."
Abi, Events and Hospitality Apprentice, joined UKFast in July 2016.
"It's been such an amazing opportunity to learn about the career I want to go into in a practical way rather than studying and never being able to just do it. Turning the office into Narnia for the Christmas Party was definitely my highlight! I've never been an education person, and I'm so glad I've found a way to learn and progress that feels natural to me."
Paul, Android Developer, joined UKFast in February 2016.
"I've developed really quickly at UKFast. In the six months I've been here, I've learnt more than in the year I spent training beforehand. Everyone is so helpful – without the support from everyone on the team, there's no way I would have progressed in the way I have."
Like the sound of apprenticeships at UKFast? Applications are live until the end of March, and the training schemes begin in July. Why wait?