On Demand: UKFast's Top 5 Tech Predictions for 2017
Adopting up-and-coming tech is becoming increasingly vital for anyone who wants to win big in a digital age, so it's never been more important to know where the big movers and shakers are – as well as how to stay compliant and keep up with legislative changes that will affect your business. So, for anyone who is now cursing the day that they missed our experts discussing just that in our webinar, fret not, you can catch up on demand now!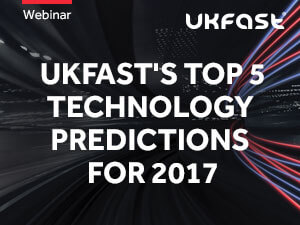 With new technologies rising and falling by the day, there's never been a better time to decide which ones you should be getting on board with. And, as technology progresses, legislation must adapt quickly to keep up, meaning businesses also need to know about the changes that will affect them in this area too in order to stay compliant.
In our Top 5 Tech Predictions for 2017 webinar, our lovely MD Jonathan and Head of Legal Nicola delved deep into how new technology and various legislative changes will impact organisations in the UK for the year ahead.
From the rise of the Internet of Things to new ways of seamlessly making the most of new technologies in your day-to-day operations, and – last but not least – how to understand and comply with data privacy laws from the European and UK parliaments, our knowledgeable team dropped knowledge all over the shop. Listen now to ensure you get the most out of 2017 and beyond!
You can get a flave of what's to come in the webinar with our teaser trailer:
https://www.youtube.com/watch?v=SHaI4fY7psE&feature=youtu.be
Listen to the webinar including a handy Q&A on demand now!