Tech Review – Internet of Things 2016 and Beyond
It's safe to say that 2016 was a year of game-changing developments in the world of technology. From automation and virtual reality, to driverless cars and artificial intelligence we witnessed an influx in innovations. In a recent round table at UKFast, tech experts gathered to discuss the game changers of 2016 and predict the transforming technologies of 2017. Lowri shares their thoughts.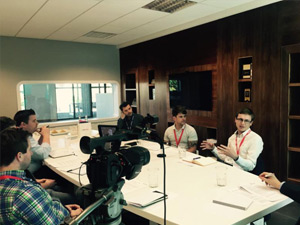 The Internet of Things (IoT) was a topic that cropped up a great deal throughout the discussion – with some interesting insights and predictions as to what new opportunities, both in home and work life, it may bring throughout 2017.
Matt Hunt, CEO of Apadmi, believes people are afraid of the term 'IoT' and in many cases do not realise they actually use it.
He said: "Once you make the step into buying something that falls into the remit of internet of things, then suddenly you move onto the other things as well.
"There's the cool, shiny tech that the press talks about and raves about and then there is the stuff that's happening in the background. You might have IoT but just have absolutely no idea – if you have a device in your house that you have to connect to Wi-Fi it's pretty much IoT.
"Most TVs now connect to Wi-Fi but people won't call it IoT. Many use it more than they realise and it's actually interesting to see how they use it. It's another building block of Lego that we all work with.
"I think IoT is really important and will likely become more and more important to people over the course of the year. We've seen it in 2016 but we'll see more in terms of what customers are asking for in 2017. There will be a very strong focus on it in business."
Jonathan Ward, director at CTI Digital, believes IoT is becoming more and more sophisticated.
He said: "There are two layers to IoT. People talk about smart cities and infrastructure – and that's where that first focus was. It didn't get off the ground so well because people didn't know how to implement it. Now that mainstream brands are coming along and introducing smaller, portable devices such as wearables etc., people are starting to identify it and can recognise it for what it is. There's real value to it so that's why they are starting to understand it more."
Share your expert insights and meet like-minded industry experts at a UKFast round table
Bill Hodder, director at Love Energy Savings, believes in order for IoT to flourish throughout 2017, stronger internet connection and speeds must be implemented.
"IoT relies heavily on Wi-Fi. Channel congestion in certain areas can be incredible, and this needs to be addressed. Google, for example, are starting to bring out Wi-Fi mesh technology. Ideally this is what people need to allow their IoT devices to run as efficiently as possible and enable it for your house to enable the IoT to actually work."
Matt added: "When you get these new things it almost takes a few years for the consumers to adjust and get used to them. It also takes people a long time to get their head around things too and to accept it. It's new and they're not too sure about it. With IoT people are worried about the issues around security. They've heard about the hack attacks etc. There's a PR activity around these things. But people need to realise it's not that scary or not a bad thing and see the benefits."
See the experts in action discussing the IoT at our round table:
Come and share your expert insights and meet like-minded industry experts at our UKFast round tables