UKFast Apprenticeships are Back!
We are very, very excited to announce that the UKFast Apprenticeship scheme has returned! UKFast is opening its gates to apprenticeships once again, and over the next six weeks we will be accepting applications for our award-winning apprenticeship scheme. Apprenticeships are an absolutely incredible way to start your career so if you – or anyone you know – is considering it, here's why it's a great idea!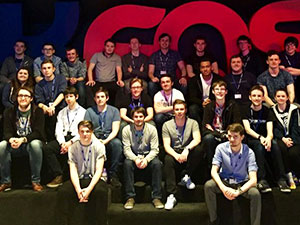 We love shouting about how incredible apprenticeships are. Once seen as a 'fall-back' type option for university, people are now realising that they're an incredible opportunity to earn while you learn – and also for businesses to shape the next generation of talent!
We've had incredible success with our own apprentices so far, which is why we're very excited to announce that the applications for our award-winning apprenticeship scheme have opened once again.
Applications will be live until the end of March and the scheme will begin in July. We're also offering higher apprenticeships too, so there's something for everyone.
Apply for our award-winning Apprenticeship scheme now!
We are recruiting ten apprentices, which is our highest figure to ever come in at once, all of which will have the opportunity to try out all of our wonderful tech teams – from app to Linux and Windows to data centres (and we've also got some exciting opportunities coming later this year and next so watch this space!). They can then choose which area they want to develop in post-apprenticeship, which is a unique opportunity that we offer here at UKFast.
We currently have 30 apprentices on programme and 20 apprenticeship "graduates" working in the business today and are very proud to say that we still have a 100% employment rate for our apprentices!
It's an incredible opportunity to really get a great start, so if you know anyone who wants the chance to get stuck in, get incredible experience in a digital business, and earn while they learn, then please tell them to apply today!
So, what are we looking for in our future apprentices?
Fab 18 year-olds (though outstanding 16 and 17-year-olds will also be considered!)
Passionate about tech
Excellent communication skills
Loves working with cool geeks!
If you want the opportunity to get great experience in a thriving industry and earn while you learn, then you could be our next apprentice superstar!