Securing a Great Deal for UKFast Clients
At UKFast improving our services and offering our clients more assurance on the safety of their all-important data is absolutely our number one priority. That's why we're absolutely thrilled to announce that we have acquired another cloud and cybersecurity service provider, Secure Information Assurance (S-IA), which provides services to some that most definitely have security at the top of their minds…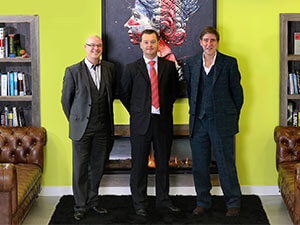 2017 got off to a flying start for UKFast and its clients with our £2.3m data centre investment, and we were determined to continue that momentum throughout the year. That's why we're very happy to say that we have yet more good news, with our acquisition of S-IA!
The addition is great news for our clients, as it gives us access to IL3 and IL4/Official-Sensitive accreditations as well as the UK's highest security rated hosting, known as List-X. It's also a further step towards the high-level security services market, as it was only six months ago that we also brought cybersecurity specialists Pentest Limited into the fold.
If you needed any more reassurance on the credentials of the newest member of the UKFast family it comes with a pretty whopping recommendation, as it currently provides secure cloud hosting and cybersecurity services to the UK Ministry of Defence, the Cabinet Office and even more UK government organisations.
UKFast co-founder and commercial director Gail Jones, along with our director of mergers and acquisitions Catherine, oversaw the deal. She said: "The moment I looked at this business I knew it was perfect for us. We've looked at 15 potential deals in the last year and this one was really head and shoulders above the rest. It was further reinforced when we spoke with the Cabinet Office, who gave S-IA a glowing report."
Making sure that everyone we join forces with comes highly recommended is crucial to us; cyber security is one of our top priorities, both in a wider sense – to ensure that the digital world is as safe from nefarious web-dwellers as it possibly can be – but also in a very focussed sense – to guarantee that we're offering our clients the best possible security services.
Find out more about how UKFast is working towards a safer internet on our security solutions web page
Catherine said: "This is an exciting step change for the UKFast group, allowing us to provide a full range of hosting services at the higher IL3/Official-Sensitive standard. With an estimated 30% of all cloud spend coming from the public sector this opens up a massive market opportunity for us and is an area we expect to see rapid growth in."
Talking of growth, S-IA is focussed exclusively on government and public sector services, bringing 14 years' experience of managing process and procedure for the highest level of government to UKFast.  The company's CEO Martin Knapp will also be heading up our G-Cloud team as part of the move, targeting a share of the £1.69bn currently spent through the government procurement framework.
He said: "This is a hugely exciting move for all of us at S-IA. The conversation started when we went to UKFast to look at their data centre facilities. We initially planned to host our cloud with UKFast, but we were so impressed that we started a conversation about becoming partners.
"There are so many technical synergies between us and UKFast; at the hardware level, the software level and at the service level too. Their technical capabilities and infrastructure are like none I've seen elsewhere.
"Wholly owned, UK-based data centres are such an important factor for the sector we're dealing with."
Discover more about the security solutions on offer at UKFast on our website