Two Copies are Better than One: Five Reasons to use BaaS
It's always good to have a backup, whether that's your neighbours having your spare set of keys, the Empire creating all of the clones in Star Wars, or your business creating a copy of your data. In a world of ever-increasing security risks knowing that you have another copy of your data in a secure location is vital for your peace of mind, and FASTcloudbackup's Backup as a Service (BaaS) can give you just that (even if you haven't gotten around to moving to UKFast yet!).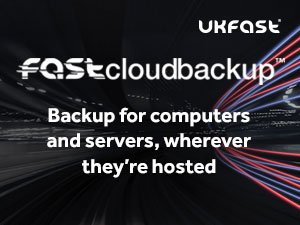 Duplicating and protecting information since 2017, FASTcloudbackup is the new – you guessed it – backup service from UKFast, and it's a great way of ensuring that your information is retrievable, without any of the stress.
It lets us securely backup the files and folders on your laptops, desktops and servers to our UK-based enterprise-grade data centres, using market-leading Commvault technology, so you can be assured your files and data are secure and readily-available, if and when you need to restore them. It's basically like when you give a spare house key to a neighbour for emergencies, if your neighbour was a professional house-key-sitter.
So, lemme break it down for you. There are a whole world of reasons that FASTcloudbackup might be the BaaS for you, but – because everyone loves a list – here are the top five reasons that you should give it a go now.
Keep it simple – One of the top reasons for steering clear of new tech (based on the extremely empirical data of me being too confused to replace my ancient phone) is that it's over-complicated. FASTcloudbackup is incredibly easy to set up and manage.
Become part of the family – You can backup your laptops, desktop computers, and any servers you have in-house even if you haven't yet gotten around to moving them to UKFast!
Sharing is caring – Leave the stress to the experts; FASTcloudbackup is much easier than running your own backups onsite and using tapes or disks to keep offsite copies.
You're in good hands – All your data will be kept snug as a bug in our UK data centres, which means you know exactly where it is and what laws are governing it, which is great for data sovereignty.
Be the best – It also means you can take advantage of our enterprise-grade technology, which is the same tech that we use in our biggest hosting solutions!
All you need to do to get cracking with FASTcloudbackup is simply install and configure the lightweight FASTcloudbackup agent onto your computers and servers, wherever they're located.  You then choose which files and folders to backup and when you want to do it, and hey presto, you're away.  The clever FASTcloudbackup agent will deduplicate and compress your files before sending them securely across the Internet to our data centre, which will speed the whole process up.  Once you're up and running you can view, share and restore files simply using the FASTcloudbackup web console.
Make sure your data is protected – find out more today