Backup In Case of Squirrels
At UKFast we're big on hoping for the best and preparing for the worst – even when the worst is squirrels. The Cyber Squirrel 1 website has made a list of all 'unclassified cyber squirrel operations' – i.e. attacks that the woodland contingency has made on human infrastructure – and the figures are pretty bleak. And, even if it's a bit tongue in cheek, it's a great reminder of the importance of backing up and having a good disaster recovery plan squirreled away.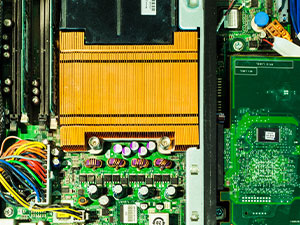 There's no end to the extent that I can bang on about the threats to your online security. Ransomware, botnets, phishing scams, DDoS; I could – and have – gone on about them at length. But there's one threat that I have yet to unearth. Squirrels.
Cyber security researcher Cris Thomas of Cyber Squirrel 1 has been keeping tabs on the power cuts caused by woodland creatures since 2013, and it turns out they're far more sinister than they seem. By his calculations, over 1,700 power cuts, affecting a terrifying 5 million people, have been carried out by squirrels, birds, rats and snakes.
While the idea of a squirrel snipping, birds biting and rabbits taking down the grid might seem like the hilarious, adorable plot of an animated movie, any business relying on uninterrupted hosting for their business-critical data will know that power outages are no laughing matter.
Protect your business – go nuts for disaster recovery
"The major difference between natural events, be they geological, meteorological or furry, is that cyber-attacks are deliberately orchestrated by humans," said Luis Corrons, technical director of security firm PandaLabs.
"While natural disasters are taken into account when critical infrastructure facilities are built, that's not the case with computers. Most critical facilities were never designed to connect to the rest of the world, so the kind of security they implemented was taking care of the physical world surrounding them.
"The number of potential attackers is growing, the number of potential targets is also going up. So we all need to reinforce our defences to the maximum – and also worry about squirrels."
To protect yourself against these literal crimes against humanity, make sure you have a good backup system and disaster recovery plan in place, so that you're prepared for literally anything.
Check to see if your hosting provider is able to support you with these vital protective steps – like regular server backups of your business-critical data – and will keep downtime to a minimum in case the worst should happen, which means one less thing for you to worry about.
Find out about the ways you can protect your business from furry avengers and more with our disaster recovery solutions