How Accurate Were Our 2016 Predictions? Episode 5
Technology has become integrated – in some form or other – in every aspect of our lives. We're all connected to one another at all times; from smart phones and wearable tech to how we shop. In the last of our 'How Accurate Were Our 2016 Predictions?' blogs, Dani takes a look at which predictions and technology came of age over the last year and the impact it had on our lives.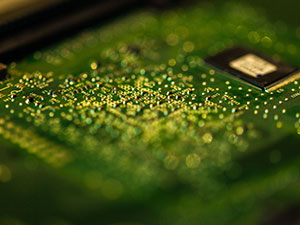 We predicted:
The device mesh – A phrase coined by Gartner, the 'Device Mesh' describes the network of devices people use to access applications and information to interact with people, social communities, governments and businesses. As the Device Mesh evolves, we expect connection models to expand and greater cooperative interaction between devices to emerge.
What happened?
The expansion of the device mesh is a natural consequence of developing technology. The more devices we use, the more connected we become and the more efficient we become as technology alters the way we operate in the work place; from cloud-hosted desktops that enable employees to work from anywhere, to content management systems and the increasingly common provision of smart phones and tablets for employees.
Although 2016 was not the year that all devices began to use one, all-inclusive language, it was the year that tech began talking about the growing need for a greater synergy in the future.
Read our whitepaper for tech predictions for the future
Big data maturing – Big data storage is becoming more efficient and more scalable thanks to the emergence of data 'sharding'. This is a relatively new way of storing data that breaks databases down into lots of little databases – known as shards – stored across multiple servers. Sharding is steadily becoming more sophisticated and, in 2016, it will allow businesses to more effectively harness big data.
What happened?
We're creating more data than ever before, using a range of devices from iPhones to Fitbits, most of which use different languages. The challenge for businesses – that have in 2016 become increasingly aware of the value of the data they possess – is determining how to streamline the various outputs and harness this data for operational purposes.
The Internet of Things (IoT) gets practical – In 2016 IoT will start to play a larger role in our lives. As the amount of data organisation can collect will become larger and more diverse, allowing them to tailor what they offer to individual consumers based on how they behave, where they go and what they do, rather than on what they previously bought online.
What happened?
By the end of 2016 Amazon's Echo and Google's Nest had become fairly commonplace, synching up the ever-growing device mesh and creating more real-time data than current infrastructures can cope with.
However, the increasing popularity of IoT in 2016 and into 2017 is shining a light on another growing issue; security. In October last year the Dyn network was victim to the largest distributed denial of service (DDoS) attack on record, emphasising the challenge within the technology industry to tackle the lack of education surrounding IoT vulnerabilities.
Find out more about technology predictions for 2017 by downloading the whitepaper
If you've missed any of the 'How Accurate Were Our 2016 Predictions?' blogs, access the series here:
Episode 3: Public Sector Cloud Adoption
Episode 4: The Rise of Software Defined Networking and Storage