Securing the Future with our New Investment
Despite their fairly unassuming name, data centres are pretty magical places. They're designed to keep servers – the guardians of that all-important data – happily humming along in exactly the right conditions. And, as it's becoming increasingly clear that data is the new gold, this means that data centres are a pretty big deal. That's why we're thrilled to announce that we've just invested £2.3 million in our data centre complex, which will offer businesses in the great and beautiful North West data centre infrastructure the like of which it has never seen before, and help keep our clients' businesses extra secure.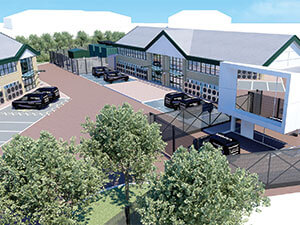 In the same way that a lot of work goes on behind the scenes of a magic trick, the conditions within a data centre have to be exactly right to keep servers running at their best – from cold aisle containment to VESDA (Very Early Smoke Detection Apparatus – and, unlike a magic trick, that's the only reference to 'smoke and mirrors' you'll see from us).
Last year we announced that we're building a new DC Support Hub, offering colocation clients the opportunity to accommodate technical staff, free of charge, while they carry out essential maintenance work during periods of low traffic during the night. Now we're setting the bar even higher for 2017, starting with a further security upgrade to our data centre's dedicated colocation space, and the construction of a new high-security, high-density, high-resilience compound within our existing facility.
The new extra-secure facility is equivalent to IL4 security standard and designed in line with List-X standards, primarily to meet the heightened regulation needs of government, financial services, international telecoms and utilities clients.
Take a look inside UKFast's data centres
Our CEO Lawrence Jones said: "This investment is a massive feather in the cap for Manchester. Previously, firms had to collocate their hardware in London if they wanted this level of infrastructure. Right now, UKFast is doing more to future-proof IT infrastructure in the North West than any other provider.
"UKFast is about delivering a Rolls Royce product at a price that's affordable to the SME community. On that journey we've attracted a number of very large corporations and public sector bodies, so it makes sense to keep listening to what they need and keep developing our service.
"We are continuing to extend our high-security, affordable offering to the British government. There's a consensus that the government should be hosting its infrastructure in Britain with British companies."
At UKFast we have four data centres, all on British soil, which have been built from the ground up by us. We own the land, the buildings and the infrastructure, which gives us total end-to-end control and allows us to guarantee fixed prices for our clients, both now and in the future.
So, you can be confident that you're in safe hands – and your data in a safe home – with our data centres!
You can read the full press release here, and why not take a virtual tour of our data centres or come and look round in person?