Is your Business Prepared for Changes in Tech in 2017?
January is not the time for leaving the house – or your seat, if you can help it. It is, however, time to get clued up on the goings on for the year ahead. In our upcoming fiesta for your ears – aka our IT & Technology Predictions 2017 Webinar – on Tuesday 31st January, you'll find out what the big impactors of the year ahead will be. Sign up now and have our industry experts drop their knowledge directly into your listening-holes!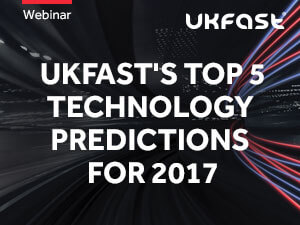 As the first month of the year shuffles to a close, it's the perfect time to pick yourself up, shake off any lingering winter bugs and decide how you're going to smash the rest of the year.
Well, lucky you because we have the answer to that exact conundrum. There are some big opportunities – and changes – on the horizon so, no matter what your business is, make it your business to know all about the key IT and technology developments for 2017.
On the glorious final day of this somewhat challenging month, at the very reasonable hour of 11am, our lovely MD Jonathan and Head of Legal Nicola will be delving into how new technology and various legislative changes will impact organisations in the UK in our wonderful webinar.
Don't miss out – sign up now
Together this dreamteam will discuss the hot up-and-coming tech that's going to set you apart and the big legal changes that will affect your business (whether you're aware of them or not), so it's a great way of getting to grips with the year ahead.
Moderated by Comms' own Hester, who I can attest is an excellent speaker and possessed of limitless enthusiasm, Nicola and Jonathan will be answering the big question – what impact will IT and technology have on UK businesses over the next 12 months?
From the rise of the Internet of Things to new ways of seamlessly making the most of new technologies in your day-to-day operations, and – last but not least – how to understand and comply with data privacy laws from the European and UK parliaments, our knowledgeable team will be breaking it down into easy and, crucially, practical info for your fine selves, helping you to get the most out of 2017 and beyond!
Key details:
Date: Tuesday 31st January
Time: 11am-12pm
Location: YOUR SEAT
https://www.youtube.com/watch?v=SHaI4fY7psE&feature=youtu.be
Sign up today and make sure you're winning at 2017