What Does 2017 Have In Store for IT & technology?
Unless you've been safely nestled under a rock or living the castaway dream on a desert island for the last 12 months, you're likely to be just as shell-shocked by the events of 2016 as we are.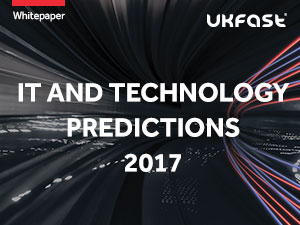 There were enough gob-smacking events to see us humans through to the next millennium, the vast majority of which seemed unfathomable as little as year ago. However, back in December 2015 we did have a go at making some IT and security predictions for the year ahead, and we've had another bash for 2017. This year we're focussing on IT and technology – Dani breaks it down.
To get the juices flowing, here's a sample selection of what to expect from our latest whitepaper:
Internet of Things (IoT)
By now we're all readily acquainted with the idea of internet-connected devices being dotted around our homes – from Amazon's Echo to Google's Nest – but what security implications lie beneath this layer of great technology? Our whitepaper provides insight into the increasingly important relationship between IoT and the cloud as manufacturers strive to protect consumers.
Data Protection
Data protection is one piping hot topic that runs right through this year's predictions whitepaper in one guise or another, starting with the need to protect the mass amounts of real-time data collected using IoT products, moving on to the GDPR and running all the way through to evolutions in the cloud.
Get ahead of the curve with our predictions whitepaper!
Investigatory Powers Act (a.k.a. the Snooper's Charter)
Hot off the press as of 30th December 2016, there is still much speculation within legal circles surrounding the Investigatory Powers Act and exactly what impact the document will have on businesses in 2017, and what organisations need to do to comply.
Technology in Society
There's new technology coming from every direction in 2017, our whitepaper provides insight into some of the exciting possibilities presented to businesses and what impact the introduction of disruptive tech will have on society.
Evolutions in the Cloud
The clue's in the title with this one. The cloud is set to move to the next phase of its evolution in 2017 with new technology and big data each playing title roles in driving the 21st century's hardware of choice forward.
If this teaser has whet your whistle for more information on what's coming up in 2017, download the IT and Technology Predictions 2017 whitepaper today and make sure your business is prepared