What's on the A-Gender?
Most of us modern, compassionate humans might assume that in this day and age there isn't really much of a gender divide anymore, right? Well you know what they say about assuming – you really shouldn't do it. Even if you know that the gender gap is alive and well you might not know that it's costing the UK economy big bucks – but a recent study has a solution.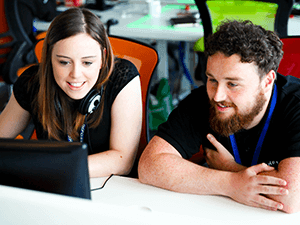 It's not exactly news that there's an equality issue in the workplace, especially within the tech industry. A recent study by women's network everywoman has found that 81% of women in the industry feel that having access to role models and career development tools a massive help progressing in the industry, and that 36% of UK businesses don't have women in board-level positions.
So, Sheridan Ash, technology and investments director and UK women in technology leader for PwC, says that men must take up the cry too, and that having men in influential positions (manbassadors as they're also known!) is a must: "If you are in a very male-dominated environment and the men aren't helping you, sponsoring you and trying to make a change, you're going to get nowhere," she said. "There are so few women that you need to start this change by getting the men behind it."
We're looking for the next tech superstars at UKFast
PwC is putting its money where its mouth is too, and trying out things like reverse mentoring – where young women in the business meet with senior male figures to show them what it's like to be a young, female in the industry – and suggests recruiting grads with a non-STEM background to catch any women who may have been put off STEM subjects when they were younger.
In case you're the kind of person who wants figures to back up an argument, everywoman's survey found that companies with mixed boards tend to make more dolla, and better reflect their customers if they're more diverse; and that if the UK made the move to mixed boards the GDP would increase by 3%. Seems like a pretty obvious move.
So, calling all men, women, animals and aliens – the industry needs your help to be the best possible place it can be, and it's for everyone's benefit!
Come and join us at UKFast – we're looking for the next UKFast superstars in a range of roles!