What's the Big Tech Fix for 2017?
As week two of 2017 dawns (I use the term loosely for anyone in Manchester; the rain is back!), it's time to shift the emphasis from looking back, to looking forward. No longer shall we wallow about controversial political outcomes, fallen celebrities or the ungodly amount of mince pies we've consumed over the last three months; it's happened, so now is the time to put on our game faces and get cracking on the year ahead.  In our recent round table we did a tech review of 2016, and as part of that, asked our experts what needed to be fixed in 2017 – here's what they had to say.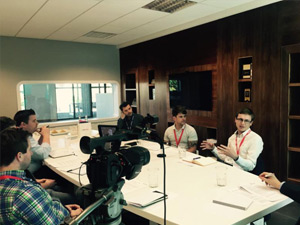 While 2016 may not have turned out the way many had hoped, the tech industry continued to flourish, but it still has a long way to go. So, with the humble aim of making 2017 better than its predecessor, we can't bubble-wrap David Attenborough but we can make sure that the tech industry is continuing to push forward as a source of inspiration and innovation in the coming year.
At our recent Tech Review round table a panel of industry experts delved into their mind caves to answer the question 'What's the big fix for 2017?', and it looks like we've got a few areas that we can make mad gains in!
From how businesses can keep up with tech and ensure that they're making the right decisions, to giving batteries a bit of a battering, and asking whose responsibility it is to keep pushing forward in tech, find out where to expect big improvements in the year ahead.
Debate the hot tech issues of the day at a UKFast round table
Our illustrious panel included Lee Wrall from Everything Tech, Matt Hunt of Apadmi, UKFast's very own Chris Marsh, Jonathan Ward beaming in from CTI Digital and Bill Hodder of Love Energy Savings fame.
Feast your eyeballs on this and let us know where you think tech could do with a bit of a boost over the next 12 months!
Join us at a UKFast round table to debate the hot topics of the day with other industry experts, and don't forget to sign up to the UKFast YouTube channel for our hottest news and advice!