Six Things You Didn't Know About Reindeer
Not to bang on about it but Christmas is really nearly here, which means that it's time to start getting in the spirit! Whether you're a festive fanatic, love a good fact, or are going to be entertaining any kids over the festive period, we have the video for you! In today's festive motion picture Shire Reindeer's Chief Elf tells us all about Maverick and Charlie; two of Santa's personal reindeer.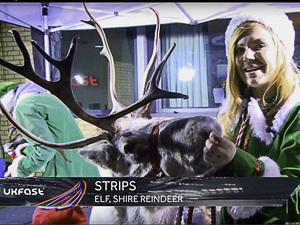 Every Christmas UKFast CEO Lawrence and his wife Gail put on a fantastic Friends and Family evening, with a spread from Ben our incredible chef, music and games, a Santa and presents for the kids and actual reindeer. It's a wonderful evening that's guaranteed to get everyone in the mood for the holidays, and a lovely chance to meet the people that the team care about, all whilst sharing in some holiday joy.
Doing things like this for the team and getting to know their friends and family is so important for morale and keeping everyone's spirits up, and putting everyone in the festive spirit has definitely boosted the team for the last push toward Christmas.
In today's video, to help you get your yuletide a-yuling and your Christmas a-cracking, and not to mention to arm you with some great facts to impress the kids this holiday, Shire Reindeer's Chief Elf is sharing six facts about reindeer with us!
The UKFast family is for life not just for Christmas – see if you could be our next superstar and take a look at our careers page.