Manchester's Mission
In a very special festive blog today, our CEO Lawrence is taking over to talk about Mission Christmas!
Christmas is my favourite time of year. We get to see all of our favourite people, eat loads and we're given the luxury of a bit more free time.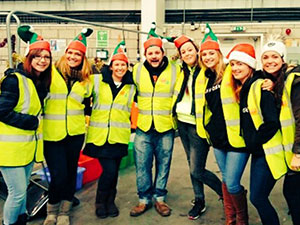 I also love giving out presents and seeing people's faces as they open their gifts; that's my favourite part of the festivities. I think that's why Key 103's Mission Christmas hits home so hard with me.
The campaign, which UKFast has sponsored for more than three years now, aims to bring the magic of Christmas to the 1 in 3 children in Manchester who are living in poverty and I am really proud to coordinate UKFast's support of the mission each year.
It's hard to imagine that 210,000 children in Greater Manchester are living below the breadline. It's even harder for me to imagine how their parents must struggle day to day to give their children what they need, never mind how it must feel at Christmas.
That's where Mission Christmas comes in, rallying Manchester to come together and donate gifts and toys for those children in need. Last year more than £2 million worth of toys were donated.
Drop off your toy donations at UKFast Campus
From the launch event here at UKFast Campus (take a look at the video below), to the big reveal on our screen outside, the charity campaign is packed with energy and opportunities to get hands-on with charity work. This week, a troop of UKFast volunteers will head on over to the warehouse to help sort and distribute the toys. Tapping in and out, splitting into shifts so that as many people can help out as possible; we have more than 60 volunteers heading over to the Bathroom Takeaway site in Trafford Park where the thousands of toys are packed to be collected by schools, care homes and parents.
Whilst the campaign won't solve the problem of the poverty stats in our region, it will certainly lighten the load for parents and bring joy to children who may well be wondering why Santa didn't bring them a gift this year.
It is incredible to see families, parents, carers and teachers come into the marquee at the front of the warehouse to collect toys for their children. It's incredibly emotional and hammers home what Christmas is all about; of course, it's about family and giving, but it's also about special memories with the people you love most. This campaign enables just that.
You still have a few days to help too. Drop off a toy at UKFast Campus and we'll make you a cuppa if you'd like one while you're here. Or pop straight over to the warehouse in Trafford Park – it's right opposite the Trafford Centre, so you could buy your gift and hop over the road to hand it in. There's even a drive-through drop off so you don't have to get out of the car.
I hope to see you there!
Come and drop your toys off