A Source of Inspiration
It's always great to get a bit of a boost and, when you need a bit of inspiration, having a community around you to share ideas and generate a buzz can be a lifesaver. Sport might seem worlds away from business but, as we found out at our recent Inspire MCR, it can really give us a run for our money when it comes to getting inspired. In today's video we hear some of the key insights from the event's sporting and business legends!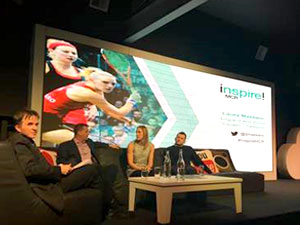 Everyone's inspired by different things, but what's important is that there's something that motivates you and gets you revved up and raring to go. Sometimes that's getting rid of limiting beliefs, sometimes it's hearing from inspirational people and sometimes it's just remembering that you're part of an incredible community and that you have all the tools you need to hit your goals!
At last month's Inspire MCR 'Common Traits of Winning in Sport and Business', we heard rugby legend Mark Cueto MBE, squash champ Laura Massaro and Lawrence Jones share the lessons they've learned from reaching the top; in today's video they talk about about why they think Inspire MCR is so important and the key takeaways from the night.
Whether you're in search of new inspiration or just want to keep aiming ever-higher, take a look at today's video – we hope you find it as inspiring as we did!
If you missed the event and want to hear more, catch up on our live blog from the night; and don't forget to sign up to our YouTube channel so you always get the latest videos from the UKFast team!