Run Towards Fantastic Goals in 2017
Although the days are dark and right now priority one is to get to Christmas with all presents bought and limbs intact, the end of the year is the perfect opportunity to write down your goals and put plans in place for the year ahead. The UKFast We Love MCR 10k and UKFast Salford 10k 2017 are both open for registration and there are loads of reasons why you should sign up now.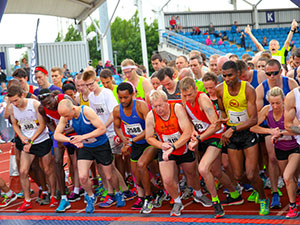 With the festive spectre of Christmas stumbling ever closer, running a 10k might seem like the last thing on your mind. But at UKFast we're big believers in the power of goal-setting (our CEO Lawrence swears by it, in fact) and once the mince pie cloud clears, you'll probably want to set some for the year ahead.
Getting your team motivated, invigorated (and letting them know in no uncertain terms that lycra is optional) is a great way to start 2017, which is why you should definitely sign up for the UKFast We Love MCR and/or UKFast Salford 10ks today!
They are great team-building opportunities and something to work toward from a sporting point-of-view, if you're that way inclined (if you're not then it's still a fun day out). You'll even have the chance to compete against UKFast for the corporate cup, which you can take home and treasure forever.
Sign up for the UKFast We Love MCR 10k 2017 today
At our recent event Inspire MCR 'Common Traits of Winning at Sport and Business' rugby legend Mark Cueto MBE and squash champ Laura Massaro took to the stage, alongside our CEO Lawrence, to share why the skills needed to reach the top in sports are surprisingly similar to those needed to reach the top in business; so now could be a great opportunity to hone some of those killer sporting instincts!
Last year's events were great days out and a fantastic chance to aim even higher, both personally and professionally. We have a discount code for £5 off too so there's no reason to miss out!
Sign up to the Salford 10k and use the code UKFast5 at the checkout for £5 off