An Inspiring Evening
Every day the world wakes up and business just kinda happens as usual. But imagine waking up every morning inspired, excited and driven to take it to the next level. At the end of last month we gathered together some of the most innovative and exciting professionals in Manchester for a night of inspiration at Inspire MCR, where we were lucky enough to hear from some incredible business and sporting minds. Now, on this most glorious of Wednesdays, you can relive some of the magic of the night!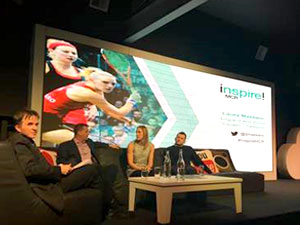 Inspiration can come from the unlikeliest of places, and sometimes the things that set a fire in your belly and teach you something different are the ones that you'd least expect! Last month we welcomed some of Manchester's finest to UKFast Campus for Inspire MCR 'Common Traits of Winning in Sport and Business'. It was a truly incredible evening and we hope everyone enjoyed it as much as we did!
The auditorium was packed to the rafters and the buzz was palpable as Manchester's top business brains came together as one community to meet like-minded people and hear from our amazing speakers. On the night we heard from our Lawrence Jones and sporting legends Laura Massaro and Mark Cueto MBE (and of course our ever-retiring host, Chris Maguire).
Stay inspired – catch up with the night's highlights in the live blog!
Although the link between sport and business might not be immediately apparent, so many of the traits needed to reach the top in both fields are the same, and hearing Lawrence, Laura and Mark bounce off each other and talk through their experiences was really incredible.
The live blog from the night has the to-the-minute updates with quotes and insights; from the importance of goal setting and self-belief, to the right questions to be asking, and loads more. The speakers were dropping insights faster than Obama drops mics (I feel sorry for the speedy typers manning the live blog!), and hearing how all three went from the beginning of their journey to being superstars in their field is awe-inspiring.
To see the speakers in action and soak up the electric atmosphere of the event, take a look at our video!
Look back at our live blog from the night for more insights and highlights!