HapPi Days
Education is an issue that's close to our hearts, as are Raspberry Pis (and any word which resembles pie, coincidentally), which is why we're excited to announce that our Raspberry Pi Café at Broadoak School has just hit new heights. It's an incredible time for education as the next generation gets teched up and prepped to fill the digital skills gap, and we're proud to be a part of that! There are exciting plans afoot, and a chance for you to get involved too.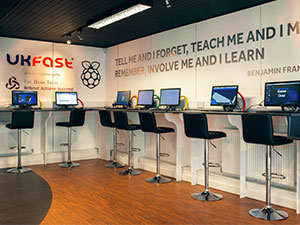 At the end of last month we went down to Broadoak School for a teacher development workshop and to see our Raspberry Pi Café there take the next step on its journey; it was an incredible day and so great to see the amazing work that's taking place there with the pupils.
The Pi Cafe is now a full-blown digital curriculum space and will be the launch pad for their new computer science curriculum in the New Year. This is a classroom that UKFast has helped build specifically for computer science, as digital skills become increasingly important for the next generation, and we could not be prouder to be playing a part in raising computer literacy across the rising workforce.
We want more young people to be able to access tech that will stand them in good stead for the future, from becoming familiar with operating systems like Linux, to being able to code their own websites and create their own applications. We play our part by offering up our expertise and resources to help with this in any way we can, and plan to keep creating cafes around the country so that we can reach as many young people as possible.
Our partnership with the Dean Trust is incredibly important to us and is one of the leading academics in the country leading the way for digital skills in the new era. The partnership is also the foundation for our next adventure, and this café is a proof of concept that lets the community see what we can do. Watch this space before we ramp up into a full school in the new year.
Before that can happen though we want to know your thoughts; we want this to be a school for the community that really reflects what the community wants and needs. Give us your feedback and we can build a better future together!
While you're having a think here's a behind-the-scenes look at the difference the Cafes can make to the community: