Domain Name Changes: What you Need to Know
December 1st is a big day. You can start opening your advent calendar, you're officially in the last leg of the year and, if you have a registered domain name then – just like the holidays – some changes are a-comin' too. Here's what you need to know.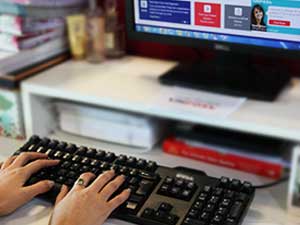 What's happening?
As of this Thursday, otherwise known as December 1st, internet overlord ICANN is updating its IRTP (Inter-Registrar Transfer Policy) with a new system that will kick in when you update certain WHOIS contacts.
This basically means that if you are the proud registrant of a domain, when you change certain parts of the contact details – say, if you wanted to update to a new email address – then things are going to be a little, er, different. Fear not though, we're here for ya.
The nuts and bolts
So, until this week, this slightly more complex system only affected domains that were being 'traded' from one registrar to another. This trade-style update system is now going to be triggered whenever a registrant's name, organisation or email address is changed on any gTLD, which is the end part of a domain, e.g. the .co.uk part of www.ukfast.co.uk. However, to make things extra fun and confusing, these changes are not actually applicable for country codes such as .co.uk (so it'd be like, .blog, .london etc.).
Anyway, the nub and gist of the changes is that whenever you update the contact info for these domain gTLDs, it's now being treated as a trade even if the person in charge isn't actually changing. So, for example, if you update your name from "Bob Smith" to "Robert Smith", the old and new contacts will now be treated as if Bob and Robert were two different individuals (even though they're patently not). It's all getting very Fight Club, but there is a point to the move.
The goal of all of this is to introduce additional security to prevent domain hijacking, fraud and also provide a level of transparency between both the old and new registrant contacts. Great in theory, bit of a pest in practice.
Manage your domains and register new ones in MyUKFast
What does this mean for you?
It essentially means just a little bit more admin-ing on your part which, I guess, is a small price to pay for security.
Whenever a registrant's name, organisation or email address is updated on any gTLD now, both the old and new registrant contacts will receive an email requesting that they review and authorise the change in contact details.
Both parties must agree to the change (even if both parties are actually the same person). Then a second email will be sent to both contacts to confirm that the update has taken place.
The new registrant also has the option of applying a 60-day transfer lock on the domain which prevents domains from being quickly moved from one registrar to another like a sack of potatoes, and you can confirm whether you want to lock down a domain in the first email that you'll receive.
Rejection hurts…
What's important here is that if either contact rejects the change, the whole process is cancelled. This is also true if one of the contacts fails to respond within seven days, so if you're updating to a shiny new email address, don't delete any old email accounts until you've approved both!
It all sounds a bit complicated but in reality shouldn't be too much of a faff and should become clear if and when you come to it.
If you have registered a domain with UKFast you can manage your settings in MyUKFast, and if you have any problems when updating contact details just get in touch.
Now that you're up to speed with the changes, you can also register a new domain with UKFast on our website