We Want Your Thoughts!
Manchester, we need your help! We're thrilled to announce that we have once again joined forces with the Dean Trust to bring digital skills to the next generation; but this time we're going even further, with a free school application to build a new secondary school in the city! Together we can make this a school that the whole community can be proud of.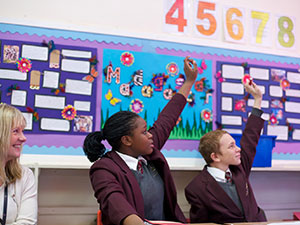 Our training and education department are constantly going above and beyond to make sure that the UKFast team and the local community are skilled up and progressing. It's an admirable quest and they've been doing a sterling job so far. But, never one to rest on our laurels, we're now going one step further.
We've put together a free school application, along with the incredible Dean Trust, to build and launch a new secondary school in Manchester that focusses on equipping young people with the skills that they need to thrive in an increasingly digital world. As part of this application process, we want to hear your thoughts.
We think that in this new world, where code is King AND Queen, and digital dominates, digital literacy must be a strong thread throughout the curriculum. We're doing this by combining traditional values like smart school uniforms and great manners, with the skills that the modern working world needs.
To make this school the best it can be and ensure it truly caters to the needs of the community, the community needs to get involved. You know your children and your community best. We want to know what you think. What do high schools in Manchester need? How can digital literacy be improved across the region? No thought is small or unimportant – help make your community even greater and enrich the lives of the next generation.
For many years now we've partnered with the Dean Trust, providing digital masterclasses, workshops and Code Clubs, as well as creating a Raspberry Pi café at their Broadoak School for community use too. Now we're taking the next step and we want you to join us. Let us know what you think; and if you need a source of inspiration, hear from the Dean Trust themselves.