Manchester – Join Us on Our Mission!
Whether the news that Christmas is 37 days away – that's a mere 3,187, 945 seconds juuust in case you were wondering – strikes joy or fear into your heart, there's one thing this festive period that we can all unite on. One in three children in Manchester won't receive a present this Christmas; but the good news is that you can help change that. Last year Mission Christmas raised over £2 million in gifts and cash and supported over 51,500 local children; this year, with your help, we can do even better.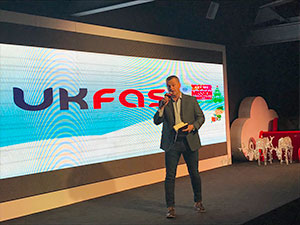 Mission Christmas is Key 103's festive campaign for charity Cash for Kids – an organisation that raises money to help disadvantaged and disabled children across the city. A staggering one in three children in Greater Manchester are in such poverty that they won't get any Christmas presents this year but through your toy donations, Mission Christmas is planning on changing that.
Last night at UKFast Campus we hosted the glittering Mission Christmas launch party as an official sponsor of the campaign –  it was an incredible way to kick off the festive period and an evening full of good food, good fun and a drive to make a real difference.
Over the course of the evening we heard from Cash for Kids, families that have received gifts from Mission Christmas, and our CEO Lawrence Jones MBE, who donated £10,000 to get the ball rolling in a moving speech to the audience.
Become a Mission Christmas drop-off point
Sign Up Now
We also heard from George (below), a school boy who cycled 170 miles and raised over £8,000 for the charity; pretty inspirational (especially for those of us who can barely stay upright on a bike!).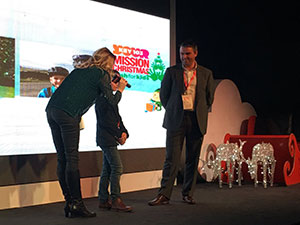 Jackie and Mark – one of the families that received presents from last year's Mission Christmas campaign – also got up to talk about the overwhelming and amazing experience they had had, knowing the community had come together to support them.
They said: "It was absolutely amazing. We went on days out, and the children were smiling again for the first time in months. Like everyone else, we just wanted the children to be happy.
"It meant such a lot, we can't even tell you, you really do make a difference and there's a lot of children out there that need help too."
As they so rightly said, there are still kids out there that need help. You can make a massive difference to the lives of children around our glorious city by dropping off new and unwrapped gifts for children and young people aged 0-18 years.
We're a drop-off point again this year and we'll be transforming our creche into a grotto. We'd love to welcome you and your gifts to our office from the 23rd November; come down and say hi! You can register as a drop-off point too, to make it as easy as possible for Santa's helpers to do their good work.
Find us at:
UKFast Campus
1 Archway
Manchester
M15 5QJ
Become a drop-off point at the Key 103 Mission Christmas website
Find Out More