An Incredible Week and a Special Award
Ending an already incredible week on a high, last night we were thrilled to take home a Judges Choice Award at the 2016 Manchester Evening News Business of the Year Awards!  It was a huge surprise and an award that's very close to our hearts.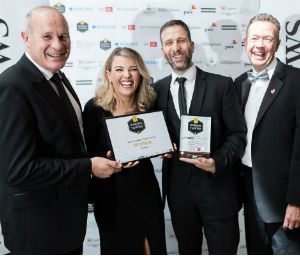 On Wednesday we covered ourselves in glitter and had a ball as the main sponsor of the Digital Entrepreneur Awards, and loved every second of it. Then, in a lovely role reversal, last night we were lucky enough to take home a trophy at the 2016 Manchester Evening News Business of the Year Awards.
There were businesses large and small from across the property, fashion, technology and manufacturing sectors, and it was an incredible evening and fantastic to mix with some of Manchester's leading lights.
What made the evening even more incredible is that we won a special Judges Choice award! It was a total surprise as there was no shortlist for the award, which aims to reward a business that has made a wider contribution to the region, as well as having a strong 12 months.
Take a look at the current UKFast vacancies
A few UKFasters were repping at the ceremony and said that it was a fantastic moment as we weren't expecting it at all; we first clocked that something might be happening when the presenter started to read out a bit about the winning team and some of our core values came up.
The judges made special mention of the fact that the award isn't about turnover or organisation size, but instead about the wider contribution and impact to the community, which they felt made us a good choice; and also said that our services and solutions are changing the way that Manchester's community is doing business, which was an incredible thing to hear.
They went on to talk about our work in the community, especially in regards to education, with special reference to the work we put into developing young people with our training, coding clubs and apprenticeships.
While recognition is never the point of what we do, and never will be, it's an incredible honour to know that our work is making a difference to the city and that others feel that way too. It's our third MEN Business of the Year award and hope that we can keep raising the bar and helping the community grow.
There were some incredible businesses both shortlisted and winning awards on the night and we're very proud to be one of them. Great work Manchester, keep it up!
If you want to join our family as the next UKFast superstar take a look at our careers page!