Leading the Way at UKFast
Today one of our lovely new sales and lead recruits Amelia shares her first impressions of working at UKFast!
Before starting at UKFast I had no knowledge regarding the hosting industry, which at first made me a little hesitant to apply for a role. Having lived in Manchester for four years I had previously heard great things about the company and saw the unmissable sign on the side of UKFast Campus every day on my way to uni.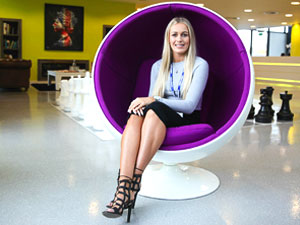 Once I had completed my degree, I decided to take the plunge and UKFast was the first place I applied for. I heard back straight away and had an interview with the Managing Director Jonathan, the nicest person you will ever meet, and was offered the role shortly after.
I was invited to come straight back to the office to meet everyone for Beer Friday. Everyone made the effort to come and introduce themselves to me and to make me feel welcome. This was the first time that I met the CEO, Lawrence. Almost all of my friends have never met or talked to the CEO of the company that they work for, Lawrence makes a point to know everyone at UKFast and to make them aware that his door is always open if we need anything. He is frequently involved in my training, offers great advice on how to succeed.
Join the UKFast Team!
The support really stands our here at UKFast. Even after induction is over, our training and education team run weekly sessions to ensure our knowledge is up to date – they even provide bacon butties for everyone! If you ever have any questions you can pick up the phone to anyone at UKFast and they will always be happy to help no matter how busy they are. There is a real sense of team spirit and it will only take you a couple of days before everyone knows your name.
The benefits of working at UKFast seem too good to be true. Beer Fridays, ping pong tables, Beach Week, sleeping pods, a gym, coffee machines, cinema premiers, trips away, bake sales, fancy dress – the list is endless. Did I mention bring your dog to work day?! I had previously never worked for a business who takes such pride in looking after their employees as much as UKFast does.
Everyone is encouraged to take full advantage of the fitness opportunities here at UKFast too. I take part in kettlebell classes on Tuesday, Wednesday and Thursday, and join running club on a Monday and Friday. Being able to exercise on your lunch break is a huge morale booster. The gym has all the equipment you need as well as showers and a sauna.
The highlight of my time at UKFast was the unbelievable festival Lawrence put on in September. It exceeded my expectations and was a day I won't forget. Everything at the festival was free for staff, friends and family to take advantage of. There was paintballing, zorb football, rides, total wipe-out, live performances and all the food and alcohol you could consume. All as a thank you to the team's hard work throughout the year; sounds too good to be true!
I have thoroughly enjoyed my first five months at UKFast and encourage anyone to apply for a role here.
If you want to be the next UKFast superstar take a look at our careers page!