Hot Up on Hosting for Peak Period Success
With 86% of buyers now shopping online, us Brits now boast the highest proportion of digital customers in Europe, with digital spending growing by 259% for Black Friday 2015 alone. It's the old 'time is money' chestnut. During a peak period, no matter when it occurs, eCommerce businesses must maintain high performance levels, despite a huge increase in site activity, if they are to remain competitive.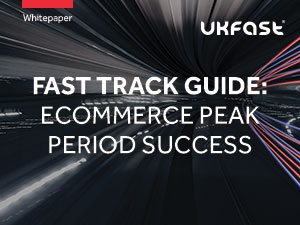 But how can businesses ensure they're able to capitalise on these peak periods? In order to put yourself over the top and capture those ever-crucial customers, there are a few key things you have to do.
Luckily our latest whitepaper – the Fast Track Guide to eCommerce Peak Period Success – is on hand to be your spirit guide and help you win at peak periods! We've discussed the basics of preparing for the peak period, and how to make the most of digital marketing. Last week we talked customers, and now we're giving away the secrets to success with hosting.
To create the whitepaper we spoke to five experts to get you through some of the most exciting – and stressful – times of your year. They are: David Pert, eCommerce Director at Simon Jersey; Lauren Percival, eCommerce Manager at Forever Unique; Phil Turner, eCommerce Manager at Silentnight; Sam Rutley, Digital Director at PushON and UKFast's own eCommerce Team.
So, before you dive in you'll want the lay of the land. In the first part of our hosting insights, our eCommerce expert team set the scene for hosting requirements in 2016.
Hear the expert insights in full in the whitepaper
Have hosting requirements changed over the past 12 months?
So, before you dive in you'll want the lay of the land. In the first part of our hosting insights, our eCommerce expert team set the scene for hosting requirements in 2016.
They say: "Over the past year there's been a shift towards distributed computing; having multiple web and database servers. This change has happened for a couple of reasons: firstly to improve performance and, secondly, to make more efficient use of hardware."
Next we wanted to know how much involvement a hosting provider should actually have:
How closely do you work with your hosting provider throughout the year vs. in the lead up to a peak period?
Lauren at Forever Unique explains how sharing the team's campaign and promotional calendar with its hosting provider and ensuring that all stakeholders have awareness of their peak periods, is an area its working to improve on. She says: "The benefits of sharing our vision ensures that we are delivering an exceptional customer experience throughout the customer journey."
Going next level on the subject, we were curious as to what these relationships meant for the end service, so we asked:
How does your relationship with your hosting provider affect the service you are able to provide?
PushON's Sam talks about how working with a reliable hosting provider allows the team to focus on their core competencies of providing eCommerce expertise in development and markting to their clients. He said: "The relationship is critical. We speak to our hosting provider on a weekly basis, and meet regularly to discuss new and existing clients. Their focus is on speed and service; as our clients grow we need our hosting partner to be proactive with recommendations and solutions which support our clients."
Phil over at Silentnight delves into his experiences in the whitepaper, as he explains how a reliable hosting provider gives his team the confidence to achieve their goals, and the hosting tools that have them tipped for success!
And finally, how are the experts implementing their learnings from last year (basically, how can you all learn from their graft?):
What hosting learnings will you take from last year and how will these be actioned?
David talks about how working with a hosting provider that's got your back can help you realise opportunities that you weren't otherwise aware of. He said: "The key realisation for us in the last 12 months is that by working more closely with our hosting provider, we're able to find improvements and opportunities which we weren't aware of previously." He goes on to explain why he now thinks of a hosting provider more as a strategic partner than a service provider.
Ultimately there are several key elements to nailing your festive period – from understanding your customers to finding the right hosting provider. We've provided the insights, now it's down to you to go out there and make the most of your peak periods. Happy Peak Periods everyone!
Download our Fast Track Guide to eCommerce Peak Period Success for the full expert insights