Next-Level Performance with eCloud® Offering
When it comes to your website, it's no secret that speed really is everything. And, as websites become a key part of any business offering, and increasingly competitive, you need to be sure that yours is performing to the best of its abilities. Our new incarnation of eCloud Public could be the secret to unlocking next-level performance for your site; here's the lowdown on how to hit new heights with eCloud Public.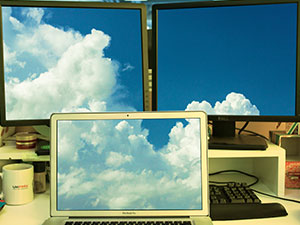 Many websites and applications require fast access to storage in order to perform really well, especially if there's a database involved.  The speed of being able to read from the database (for example, to display some product information on an eCommerce site) or write to the database (for example, if a customer wants to update their profile on a website) can have a major impact.
It stands to reason then, that the faster that storage can be accessed, the better the website or application can perform.  Put simply, that means a better experience for your end customers, which could mean happier customers and more revenue for your business.
Find out more about our new eCloud Public virtual machines
That's why we've launched eCloud Public virtual machines with higher performing IOPS*. In addition to the range already out there, you can now also choose double (IOPS X2) or quadruple (IOPS X4) performance levels. eCloud Public virtual machines with normal IOPS performance remain a great choice for standard workloads, but for when you need that additional speed consider super-charging your IOPS.
As an analogy, think of the gears on a bike.  There's only so fast you can go with your current gear set-up but imagine how much faster you could go if you could double or even quadruple the gears available.
With the rise and rise of cloud it's never been more important – or easier – to ensure you have the right setup working for you. At UKFast we have a range of solutions for any need, and now is the time to take control and get ahead in the cloud!
Find out more about the benefits of eCloud Public virtual machines and how they improve performance
*NB:  IOPS (Input/Output Operations Per Second) is a performance measure related to the speed of computer storage.