Sign Up to the UKFast We Love MCR 10K 2017!
It's that time again – time to run like the wind, time to teambuild like a trooper, time to… apply our discount code at checkout for cheaper entry to the race! While that last bit might not be quite as catchy we do have a discount code for you lovely lot which is much better than alliteration. Although it might seem like no time has passed since the last UKFast We Love MCR 10k run, registration for next year's race has opened and now is the perfect time to leg it toward that goal (I've run out of decent running puns, sorry)!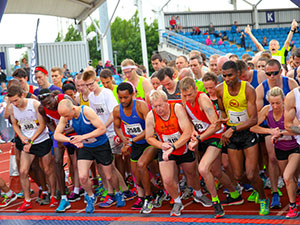 Yep, you heard it here first (unless you've been to the event website, in which case this is second-hand info); the 2017 UKFast We Love MCR 10K is now open for entries!
This year's We Love MCR 10k went down a storm and was a fun, goal-smashing day for all involved. Now turn your sights toward next summer (and if you're living in the UK you probably did the second the rain started), because whether you're a regular runner or a sports sceptic there's fun, sun and a whole lot of teambuilding to be had at next year's event!
The race is going down on Sunday 9th July and, whether you're dressed to impress or to beat your best – time that is – why not sign up now and have something to aim for? What's even better is that we have a £5 discount code for you to use – just enter UKFast5 at checkout.
Get your goals in place for next year and join us at the We Love MCR 10k!