How to Meet Customers' Growing Expectations
While the user experience (UX) is confined to the site itself, the customer experience (CX) goes beyond the realms of the digital to the logistical. Amongst the challenges for retailers is understanding how these two must work together. We asked the experts how to create this perfect balance in our Fast Track Guide to eCommerce Peak Period Success!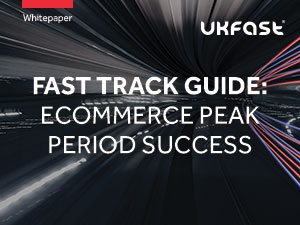 So far our Fast Track Guide to eCommerce Peak Period Success has gone through the basics of preparing for the peak period, and how to make the most of digital marketing. Now we're talking customers, the next – and arguably most important – piece of the puzzle!
To create a whitepaper that is full of insights on nailing your peak period, we spoke to five expert spirit guides to get you through some of the most exciting – and stressful – times of your year. They are: David Pert, eCommerce Director at Simon Jersey; Lauren Percival, eCommerce Manager at Forever Unique; Phil Turner, eCommerce Manager at Silentnight; Sam Rutley, Digital Director at PushON and UKFast's own eCommerce Team.
Have UX and CX become one and the same and how do they fit into your plans for the future?
Despite being relatively new terms, user and customer experience (UX and CX) are staple components of any eCommerce strategy; and as online shopping is getting more traction every year, it's not something that many retailers and e-tailers can't afford to do without. Us customers are impatient, and won't stand for a frustrating experience; and in this day and age, there's really no need to.
David at uniform and workwear suppliers Simon Jersey believes that the user experience can only be understood when you know how it fits into the over-arching customer experience. He says: "By understanding the offline/real-world processes that link with the digital experiences, we can better help the customer have an overall experience which meets their expectations.
"For example, there's little benefit in creating a fantastic online experience for returns if the real-world processes on which it relies don't work fast enough, or supply the customer with enough information." David goes on to give real working examples of how his team implements this in their work on the daily.
That seems fair – customers now expect the same standards of service they'd get when they walk into a shop, or better. What might not be obvious – says the UKFast eCommerce team – is the relationship between UX and hosting. "Everything should run smoothly to make up one whole interaction with the brand," they say, before going in-depth on how to achieve this.
What all the experts seem to agree on is that it's not enough to have just one strategy for both UX and CX; they're two separate things and need to be treated as such. Oh, and PushON's Sam has a pretty cool metaphor for UX that involves door handles so that's worth a look!
Hear the expert insights in full in the whitepaper
Delivery is now massive – from Click and Collect to parcels that arrive at your door within hours of being ordered – and can be the difference between a sale and losing a customer to a competitor.
David says, "As online shopping continues to grow in popularity, delivery is by far the fastest changing area of customer expectation. Customers increasingly expect deliveries, returns and samples to be managed online and take place much more quickly, all while providing them with more options and control."
Interestingly, Lauren says it's not just a case of offering all of the options across the board though – the type of business you are will greatly effect what you should provide. "When it comes to deliveries, online retailers cannot afford to waste any time if they are to retain their customer base," she says.
"However, as our items are not an impulse purchase – very often our customers are searching for an occasion that has been in their diary for a while – they have the luxury of time, and we have not received any requests for a same-day delivery service. For now, we're utilising our resource in other areas." The whitepaper explains exactly where these areas are.
Phil and the team at Silentnight have found the same, and that this means the need for improvements in other areas as well. He says: "A mattress is a considered purchase, so for us getting the logistics right is all about choice and effective communication. If you need something the next day due to a problem such as a flood, then we can sort you out; service is king." He also cites the importance of personalisation to stay at the cutting edge.
Finally, Sam explains how to deliver top-notch services when you don't have the resources of a mega corp!
Hear more about preparing for the peak periods, from meeting customers' growing expectations to making the most of your hosting relationship, in the Fast Track Guide to eCommerce Peak Period Success.