How can B2Bs Prepare for eCommerce Peak Period?
To get the low-down on what it takes to achieve peak period success for our recent whitepaper, we spoke to five experts for their hard earned pearls of wisdom. Amongst their number was David Pert, eCommerce Director and the pro at the helm of leading uniform provider Simon Jersey's eCommerce exploits. Dani has the lowdown!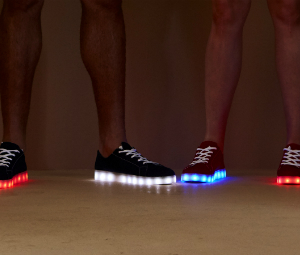 2016 was a particularly significant year for the fashion brand, who won the contract to supply Team GB for the Rio 2016 Olympic Games. The company kitted out the nation's athletic heroes in their outfits for formal events during the Games, including the closing parade.
Yep, you read that right – remember those amazing flashing trainers? That was Simon Jersey's handy work.
The eye-catching, flashing red, white and blue sneaks captured the attention of the hundreds of millions watching the night's entertainment unfold on their screens around the world, and resulted in a surge of traffic flooding the brand's site.
David told us a little about how one night in Rio affected the brand. He said: "Following a fantastic reaction on social media to officially supplying Team GB with formal wear and parade wear, we're keen to thank our customers by allowing them to play a part in which promotions we offer throughout Black Friday week.
"Our focus this year will be to plan in far more detail both on which products should take the focus (and the subsequent stock and infrastructure requirements), which promotions we'll circulate and how that will change depending on different competitor responses. Perhaps most importantly we'll also be looking at how the event can take more of a multi-channel approach, with a specific focus on using social media to engage more directly with customers across the week."
So, Black Friday and Cyber Monday aren't just for the likes of Amazon and Apple?
"Interestingly, it seems Black Friday has well and truly expanded beyond B2C," says David. "All buyers expect bargains during this period – no matter who they're buying from. Don't assume that because you're a B2B you don't need to be involved."
With the recent roll out of eCommerce platforms such as Magento 2 that cater specifically for the omnichannel experience, shoppers now expect as par for the course, David gave us his thoughts on how retailers can use this technology to their advantage in the lead up to the peak periods.
"There's definitely a trend towards the centralisation of transactional and behavioural data and how that can be used to trigger, automate and inform marketing activities. As a result, many digital marketing tools which used to be separate from the eCommerce platform itself are becoming a part of the core offering.
"This is a very welcome change and something which is increasingly important. The focus very much needs to be on efficiency. How can the more regular tasks be automated, or reduced in time? How can campaigns and data be shared among multiple systems, reducing the need for duplicated setup processes? How can data be presented in an increasingly actionable format, allowing for data to turn into insight and action far more quickly?"
To round things up, we asked David how closely did they worked with their hosting provider leading up to the event.
"This year has seen a step change in how we approach our relationship with UKFast. It's clear that sharing our strategic goals is leading to significant improvements in resource efficiency, stability, cost effectiveness and customer experience.
"We now share our challenges and objectives with UKFast more openly and across a wider range of topics. This allows UKFast to offer potential solutions and approaches, which we may not have realised they could offer. In some aspects of our technology and infrastructure this is allowing us to improve the customer and staff experience, reduce capital expenditure and total cost of ownership and reduce the timescales for change."
To get more of the inside track from the masters of eCommerce peak period success, download the whitepaper here.