The Digital Kids Show you Don't Want to Miss
If you're looking for a great family day out that's full of fun, games and education (don't listen to the haters, learning is fun), then get involved in the Digital Kids Show. On October 29-30th, your coding ninjas, future scientists and tech-loving kids can get hands-on with the latest in tech toys, games and apps.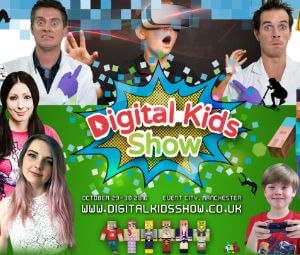 We're very excited to announce that we will be down at the Digital Kids Show next weekend, supporting digital kids and helping to get them as excited about tech as we are! Getting kids into STEM subjects at a young age will help erase the idea that tech is boring, or only for 'techies' and set them up with skillz for life. Tech is for everyone, and – I don't care what anyone says – it's really cool as well.
On the 29th and 30th October, Engage Media Solutions – the brains behind the Digital Kids Show – is hosting an amazing weekend out for families, which will include live shows from celebs like YouTubers LDShadowLady, AshDubh and EthanGamerTV, plus Britain's Got Talent finalists Mythical PSM and Boogie Storm (even if you're as baffled as I am at these names chances are your kids will know who they are).
There are also science shows, advice for parents on internet safety, an inflatable Total Wipeout Zone and a Gaming Zone which includes the latest games FIFA17, Dragonball Xenoverse2; we'll be there hosting coding workshops too so we'd love to say hi if you can make it!
The show is the brainchild of Aisha, who has two kids aged nearly six and four; she's also head of Engage Media Solutions, a social enterprise that puts on events to highlight the dangers of the digital world so, when it comes to kids and tech, she's pretty clued up.
Engage Media Solutions works with a range of companies from the BBC to Disney and several government departments and charities, and realised from feedback at other events that it's vital to get parents involved in preparing kids for life in a digital age; thus the Digital Kids Show was born.
We've secured £5 off each full day Digital Kids Show ticket for you lovely lot, so make sure you use the code UKFAST5 when you're booking!